December jobs report: Unemployment rate at 9.4%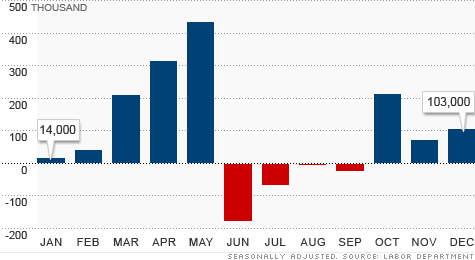 NEW YORK (CNNMoney) -- High hopes for December's employment numbers were dashed Friday, when the Labor Department reported disappointing job gains for the month. But the unemployment rate took a surprising dive.
The economy added 103,000 jobs in December -- falling short of most expectations. Meanwhile, the unemployment rate sunk to 9.4%, its lowest level since May 2009, confusing some economists.
While a sharply lower unemployment rate was a welcome surprise, some experts said that drop was mostly due to a shrinking workforce.

"A lower unemployment rate is a mixed blessing," John Silvia, chief economist at Wells Fargo said in a note. "Yes, we are getting more people employed but we appear to be losing people into the woodwork -- not a good sign long term."
Economists surveyed by CNNMoney were expecting the unemployment rate to ease to 9.7%, from 9.8% in the previous month.
The payroll number was a clear disappointment. Economists predicted a gain of 150,000 jobs, and many had boosted their forecasts earlier in the week, after private payroll processor ADP released a shockingly strong report.
While that report is often seen as a bellwether for the Labor Department's number, this is the second month in a row that the government figures came in disappointingly lower.
Because temporary holiday hiring is typical for the end of the year, the raw numbers are seasonally adjusted to account for those extra jobs. But since the recession, economists have struggled to account for new changes in consumer and business behavior, which may have distorted the figures and caused volatility in the various readings.
"What we're using is patterns from previous years to adjust this year's numbers, and in a dynamic economy that is not going to always work," said Stephen Bronars, a senior economist with Welch Consulting.
According to Friday's report, businesses added only 113,000 jobs to payrolls in December. The government continued to shed staff, cutting 10,000 workers.
October was revised up to 210,000. November was revised up to 71,000, slightly better than economists' forecasts for a revision to 62,000.
More jobs, but fewer workers
While the payroll number stems from a survey of employers, the unemployment rate comes from a household survey. It includes only workers who are actively looking for jobs, and not the so-called "discouraged workers" who have given up their job searches.
Discouraged workers in December ticked up to 1.3 million, with those workers falling off the the unemployment rate calculations.
About 260,000 adults dropped out of the labor force for various reasons, and were no longer counted as unemployed by the government. The overall participation rate in the U.S. labor force fell to a new recession low of 64.3%.
"Incredibly, the U.S. labor force is now smaller than it was before the recession started, though it should have grown by over 4 million workers to keep up with working-age population growth over this period," said economist Heidi Shierholz of the Economic Policy Institute.
While positive job growth still brings some hope for 2011, there's still a long way to go to recover the 8.5 million jobs lost since the Great Recession began.
The labor market typically needs at least 300,000 to make a difference in the unemployment rate, economists say, and at least 150,000 to keep pace with population growth.
Overall, the economy rounded out 2010 with 1.1 million jobs added, the best year for hiring since 2007. And job growth is still trending upward, albeit very slowly, with an average of 128,000 jobs a month added in the last quarter of the year.
"The message here is, we are seeing improvement, and it's a report that hints at more future strength," said economist Robert Brusca of FAO Economics. "The glass may only be half full, but it is at least half full."