Pricey cupcakes - your chance to invest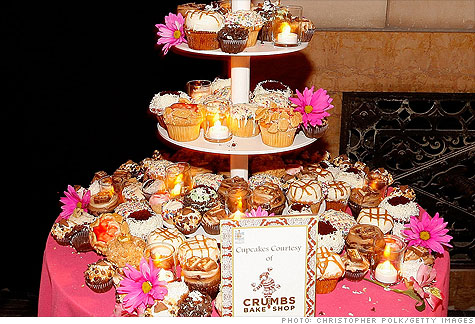 NEW YORK (CNNMoney) -- Investors who want to invest in the national cupcake craze will soon be able to buy into the gourmet bakery Crumbs.
New York-based Crumbs Holdings said it is being acquired by the 57th Street General Acquisition Corp. in a proposed transaction that is expected to close in March. The company will then change its name to Crumbs Bake Shop and seeking a listing on the Nasdaq National Market.
Jason Bauer, co-founder and chief executive officer of Crumbs, said that going public will help the company achieve its plan of expanding to 200 locations by 2014.
Founded in 2003 in Manhattan, Crumbs has already expanded to 34 stores in six states and Washington, D.C.
Crumbs said that, based on preliminary estimates, it earned between $1.7 million and $1.9 million in 2010 on sales of $31.1 million.
Revenue is expected to climb to between $45 million and $50 million this year, and to between $85 million and $90 million in 2012, with profit rising to between $3.1 million and $3.9 million this year and between $8 million and $9 million next year.