New to Sam's Club: $99 basic health services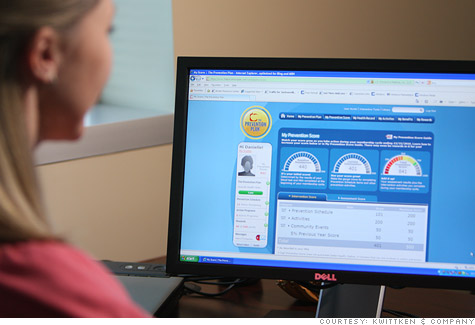 NEW YORK (CNNMoney) -- Beginning this month, Sam's Club shoppers stocking up on milk, detergent and toilet paper, can now also throw a basic health service package into their shopping cart.
The package which will cost $99 is called "The Prevention Plan" and is offered by U.S. Preventive Medicine.
The plan isn't health insurance, said Christopher Fey, CEO of U.S. Preventive Medicine. It's more of a personalized health program that gives buyers access to the basic tools they need to evaluate their health.
It also coaches them on how to attain a healthier lifestyle.
"Think of it as what a financial planner does," said Fey. "He takes all the information you provide, assesses the risk and gives you a plan on how to improve your financial health. The prevention plan does a similar thing, but for your health."
Consumer advocates warn that this program should not be thought of as a replacement for access to doctors.
Warehouse club operator Sam's Club, a division of the world's largest retailer Wal-Mart (WMT, Fortune 500), started selling the plan on its website last week and plans to offer it in stores to its more than 47 million members by May.
What you get: For $99, buyers of the plan get an annual subscription to a web-based program that includes includes an at-home blood screening test that tracks an individual's cholesterol, blood sugar and Hemoglobin levels.
That information is used to create a personalized Prevention Plan that identifies, prioritizes and explains a user's health risks and recommends steps to improve their health.
Buyers of the program also get access to a 24/7 nurse line, two health coaching sessions, recommended prevention screenings, schedule and alerts based on age, gender and risks and a physician summary that can be shown to a doctor.
The plan does not get users access to a doctor, however.
"The aim of the prevention plan is to keep healthy individuals healthy, identify illness early rather than wait for symptoms to develop and assist in chronic care management such as for diabetes or heart disease," said Fey.
Fey said USPM, whose clients include insurance broker AON Corp. and the state of Nevada's 20,000 employees, currently employs 65 full-time registered nurses and two full-time and 100 part-time physicians.
While there won't be any face time between participants of the plan and the doctors, the physicians are there to analyze the information sent in, including blood tests.
"But we are boosting our staff in anticipation of the Sam's Club offering," Fey said.
Not a replacement for your doctor: Kathleen Stoll, director of health policy with with consumer advocacy group Families USA, strongly recommends that the prevention plan not be thought of as a replacement for access to a doctor or a community health center.
"This plan is not a replacement for health insurance," said Stoll.
"Think of this way. If you were training for a marathon, you may buy a heart monitor and monitor yourself while you train," said Stoll. "But you still need to see a professional to give you a full cardiovascular checkup."
"I worry about people thinking of this prevention plan as a substitute for an annual checkup at a doctor's office," she said.
Sam's Club spokesman Christi Gallagher said the company decided to introduce this service "because our members have told us that they wanted a solution to stay in control of their health."
Although you have to be a Sam's Club member to purchase the program, buyers can gift the service to family or even to their employees.
"One of the hottest topics among small business owners is health care for small business employees," said Jeff Ridgeway, USPM's regional vice president of sales. "Many employers don't offer any health care access to their workers because of the cost. This program is one option they can offer associates."
When asked if parent company Wal-Mart plans to introduce the health service package in its stores, Gallagher declined to comment other than to say that both Wal-Mart and Sam's Club are "always looking for different initiatives" to offer their customers.