China economic dominance is no guarantee
Commentary: George Magnus is author of "Uprising: Will emerging markets shape or shake the world economy?" (published in December 2010), and senior economic adviser for UBS Investment Bank.
It is no wonder that we in the West feel glum when considering our economic prospects.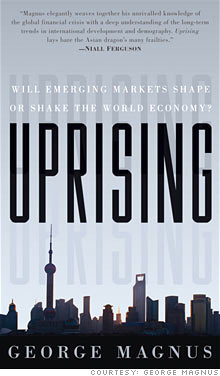 Heavily indebted, overstretched financially and militarily, and now aging rapidly, America and Europe are wrestling with their diminishing influence over world events and their ability to impact the global economy.
After two centuries of European and U.S. dominance, the 21st century, so the argument runs, belongs to China. Or does it?
The future may not be quite as preordained as you may have been led to believe. The West may well be retreating into the shadows of China and other major emerging markets, but it is also possible that the economic shock and crisis will cause us to re-boot.
We will meander to a new balance of global economic and political power, but it will be one in which the U.S. will remain the prominent, if not dominant, power for at least decades to come. The RIP notice widely pinned on the U.S. may mean 'renewal in progress' instead of 'rest in peace.'
The relative position of Western economies is clearly declining, and as emerging markets become richer and more modern, companies headquartered in this group of countries will become more prominent, changing the way the world works.
The next one billion consumers will be going to shopping malls in emerging cities and towns. In the meantime, technology companies like India's Infosys (INFY) and China's Huawei, and energy companies, like Brazil's Petrobras (PBR), have already become global champions. In some new technologies, such as low carbon and alternative energy, the leading companies are mainly Chinese.
China, of course, captures all the headlines, because it is populous, the world's biggest creditor nation, and America's principal geopolitical rival. It, alone among emerging nations, has lifted its share of world output over the last decade or so meaningfully, doubling it to about 7%.
But China's remarkable achievements over the past 20 years were in part due to rapid globalization, which may now be at risk if the rising tide of currency, trade and corporate protectionism of the past two years is anything to go by.
China's accomplishments were also due, in part, to extensive domestic reforms. But many, such as the adoption of a state capitalist enterprise model, the largest ever privatization of housing, and a laser beam focus on literacy and education, will not lend themselves to repetition without new reforms.
Those reforms may require the kind of political change that could be incompatible with the single party rule of the Chinese Communist Party.
The current political debate in China is about China's need to change in the post-crisis world. Defense and national security issues aside, many interesting new ideas are being aired, including rural reform, better social security, higher wages, easier labor migration, and investment in new industries.
But all ideas for change are incremental and cautious, designed to keep at arm's length China's biggest angst: social unrest.
Unemployment may well rise in the next few years. Even this coming year, China's economic and financial stability will be scrutinized closely as it seeks to dampen down rising inflation without causing the economy to slow a lot.
The Peoples' Bank of China will need to go much further to becalm rising inflationary pressures, but ahead of the Communist Party's leadership changeover in 2012, we should not hold our breath for strong pre-emptive measures.
Apart from managing a politically sensitive economic reform agenda and socially sensitive anti-inflation program, China is becoming more assertive abroad. It is crossing swords with the U.S. and others over its exchange rate policy and export quotas on rare earth metals, and its stance over North Korea.
It isn't always obvious whether China's leadership is being driven by deep-seated insecurity, the hubris that comes from self-confidence, or some combination of the two. This doesn't mean that an opaque and state controlled system in which rule by law trumps the rule of law can't achieve economic and technical success.
But, as so often in the past, China won't be able to rise to the challenge of and demand for effective and dynamic institutional change. And in an information-dominated world system, it won't be able out-do the U.S. when it comes to entrepreneurial transformation -- especially if the U.S. has the will and the capacity to reboot.