Milking profits from Dean Foods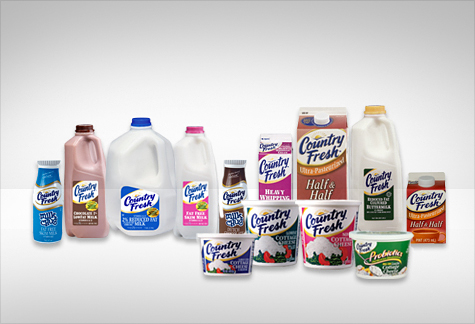 FORTUNE -- It's not an achievement to brag about: Dean Foods finished 2010 as the worst performing stock in the S&P 500 index (the sixth-worst among the Fortune 500). As of last week, shares of the country's biggest milk processor had fallen 51% since last January. Then, on Friday, things started looking up for the beleaguered company: the hedge fund run by billionaire David Tepper disclosed a 7.4% stake in Dean Foods worth about $132 million. Shares jumped 11% to nearly $10.
The news might be just what patient investors circling Dean Foods have been waiting for. As Fortune wrote in its latest issue that hit newsstands January 4, Dean Foods (DF, Fortune 500) is a smart buy for a number of reasons. Depressed shares look cheap -- recently trading below book value -- and historical milk prices point to an eventual turnaround for the company.
But first, a little background about Dean Food's recent fall from grace. The Dallas-based milk processor and distributor is the nation's largest with estimated sales of $12 billion in 2010, nearly five times the size of its closest competitor. Dean owns household brands such as Tuscan Dairy, Horizon Organic, and Land O'Lakes.
Its fortunes are tied to the retail price of milk, which has fallen over the past couple years as Wal-Mart (WMT, Fortune 500), Kroger (KR, Fortune 500) and other large grocers have discounted milk to attract recession-weary shoppers. This, even as rising commodity prices have raised the cost to produce milk. Retail milk prices fell by 7% from January 2009 through November 2010 to average $3.32 a gallon for whole milk, while production costs rose 25% over the same time.
Ben Mackovak, an analyst at Charlottesville, Va.-based hedge fund Rivanna Capital, says this trend of declining retail prices can't continue. He compiled data from the USDA and the Bureau of Labor Statistics going back to the 1980s and found that retail milk prices closely follow production costs. "Which makes perfect sense," Mackovak says. "The concept of selling milk is not new. But what's happened in the past year -- and it's really the first time this has happened -- is that there's a divergence."
Dean Foods has been caught in the middle. Its quarterly earnings have fallen on a year-over-year basis for the past four quarters. Many analysts expect another tough year in 2011 as milk prices stay low, crimping Dean's profits. Analysts forecast earnings to remain at 79 cents a share in 2011, the same as 2010, and down from $1.41 in 2009.
Staging a comeback
The good news for investors? The worst may already be priced into the stock, even after Friday's jump. Rivanna Capital is betting on a turnaround. "It's when, not if," says Mackovak. Rivanna, which manages $300 million, has posted nearly 6% returns over the past five years, according to records it provided, compared to the S&P 500's 1% return.
Mackovak predicts the long-term trend of retail milk prices tracking production costs to return, helping margins return to historical averages -- and boosting the stock price to around $15 over the next couple years.
Even if that relationship takes a few years to recover -- thereby delaying a rise in retail milk prices -- Mackovak believes Dean will benefit from a shakeout in the industry. "Because milk is such a staple, retailers are using it as a loss leader to get people into the grocery store," he says. "But that's unsustainable. The law of supply and demand says that can only last for so long. So either you need the price of milk to eventually go up, which I think happens, or you need enough of the smaller shakier players to go out of business so it gets the supply out of there."
The milk market is a scattered one, with Dean controlling nearly 40%, and independent farmers controlling a large slice. If many of those smaller farmers go out of business because of depressed milk prices, it would also boost its retail price.
And Rivanna isn't alone betting on Dean Foods. In addition to David Tepper's Appaloosa Management, other large Dean shareholders as of the third quarter of 2010 include Blackrock (BLK, Fortune 500) and well-known investor John Osterweis' mutual fund company, Osterweis Capital Management.
But Dean shares are not for the risk-averse. Erin Swanson, an equity analyst at researcher Morningstar, says higher commodity costs and shoppers trading down to lower-cost private label milk brands might continue to crimp Dean's earnings. Indeed, Morningstar rates Dean stock as one of the riskiest and potentially most volatile. But the Swanson calculates the stock's fair value to be $15 a share, and says investors may have already factored in the worst.