Business group: Regulation thwarts job growth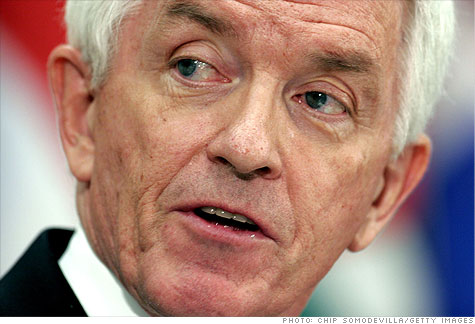 NEW YORK (CNNMoney) -- The head of one of the nation's top business organizations said Tuesday that the U.S. economy is "improving," but "regulatory roadblocks" stand in the way of job creation.
"When it comes to the nation's economy, we begin 2011 in better shape than we found last year," said Tom Donohue, chief executive of the U.S. Chamber of Commerce. "Yet we still face a number of risks that could send us in the wrong direction."
Donohue, delivering his annual State of American Business address in Washington, said regulatory roadblocks should be "swept away" to free up $180 billion in private capital that could be invested in U.S. infrastructure.
He targeted the "web of red tape" in health care, financial reform and energy regulation as holding back economic recovery. Specifically, he said the Dodd-Frank Wall Street reform act passed last year for contains 259 rules, another 188 suggested rules, 63 reports and 59 studies.
"The resulting regulatory tsunami poses the single biggest challenge to jobs, global competitiveness and the future of American enterprise," said Donohue, who blamed regulations for costing the U.S. economy $1.7 trillion per year.
Donohue also saw problems with additional regulatory activity from the Department of Labor, the Environmental Protection Agency and the new health care bill.
He said the Labor Department's regulations concerning a myriad of factors, such as compensation and workplace safety, have hurt job growth. EPA regulations on greenhouse gases have also restricted business activity, according to Donohue.
Donohue said his group is studying ways to help job creators and investors make decisions so that industry can build on strengths and fix problems.
He said the Chamber will release the findings of its study in the spring to help "strengthen America's competitive position in the global economy."
Donohue said the Chamber projects that the U.S. economy will grow by 3.2% in 2011 and that 2.4 million to 2.6 million jobs will be created. But he said this rate of expansion isn't fast enough for the nation, with its 27 million people who are "either unemployed, underemployed or given up looking for work."
In addition, he said the nation needs to create 1.2 million jobs per year just to accommodate new workers entering the work force.
Donohue acknowledged some conflict about regulation between the Chamber and President Obama, but that there are areas of agreement, too.
"We'll continue to have our differences with the White House on some issues but we'll work together on other issues," said Donohue. "We'll support the new House (Republican) leadership on many occasions and we'll work with Democratic legislators, but no one should expect the Chamber to march in lock step with anyone."
Donohue said the Chamber supports the White House stimulus plan, but clashed with the administration on labor law, environmental law and health care law. He said these conflicts have "never been personal."
Obama has made efforts to repair his relationships with the business community. Most recently, he appointed prominent business leader and ex-Commerce Secretary William Daley as his chief of staff.
Donohue referred to Daley as "a real pro" and said the Chamber has "worked with him for many years."
Donohue said Congress should pass the Korea-U.S. Free Trade Agreement, which he said would create more than 70,000 jobs.
"To succeed, we must work to enact policies that will sustain and accelerate economic growth by removing regulatory uncertainty and doubling U.S. exports over five years," he said.
-- CNN's Paul Courson contributed to this story.