Obama's new bromance with big business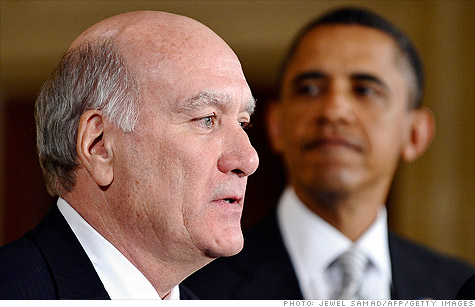 NEW YORK (CNNMoney) -- President Obama seems to be trying to rebuild his ties with corporate America, with the latest move being his plan to name prominent business leader William Daley as chief of staff.
Daley, a JPMorgan Chase (JPM, Fortune 500) executive and former Commerce Secretary, will be named Thursday to serve as the new White House chief of staff, two senior officials told CNN.
In the wake of the defeat Democrats suffered in November's Congressional elections, the president promised to reach out to business. But two key reasons why there's any friction at all -- last year's legislation reforming health care and Wall Street -- remain highly unpopular in the eyes of corporate America.
So just how genuine is his new found bromance with big business?
"I think this is the real thing," said Jeffrey Garten, professor of international trade and finance at Yale School of Management and a former undersecretary of commerce for international trade in the Clinton administration.
But, Garten added, "There are some things that any president would have to do and those things would have riled the business community no matter what, for example the Wall Street reform. I don't think he's going to back off it."
In addition to the appointment of Daley to one of the most powerful positions in Washington, Obama is expected to name economist Gene Sperling as the director of the National Economic Council. Sperling held the same title under former President Bill Clinton.
Appointing these business-friendly leaders will help Obama compromise with corporate America without betraying his core mission, said Garten.
"His key guys are going to identify with the business community on the key issues that the business community finds particularly onerous, both in health care and in financial reform," he said.
The Daley and Sperling appointments are just the latest moves by the Obama White House. Last month, the president held a meeting with 20 of the most powerful CEOs, including Jeffrey Immelt of General Electric (GE, Fortune 500), Kenneth Chenault of American Express (AXP, Fortune 500), Robert Wolf of UBS (UBS), Andrew Liveris of Dow Chemical (DOW, Fortune 500) and Greg Brown of Motorola Solutions. (MSI)
The emphasis of the meeting was to convince companies to get the billions of dollars they're sitting on "off the sidelines" and pump the money into the economy to create jobs.
"It's definitely not political," said Matt Bennett, vice president at Third Way, a business-friendly Democratic think tank. "It isn't necessarily appealing to voters to do this. It's substantive. The reasons why he's reaching out to business is that they're sitting on $2 trillion that needs to get moving."
Next month, on Feb. 7, the president will deliver a speech to his sometime nemesis, the U.S. Chamber of Commerce, which complained publicly, back in November, about Obama's "regulatory tsunami."
But on Thursday, the chamber applauded Obama's "strong appointment" of Daley as chief of staff.
"Bill Daley is a man of stature and extraordinary experience in government, business, trade negotiations and global affairs," said the U.S. Chamber of Commerce, in a prepared statement. "He's an accomplished manager and strong leader. We look forward to working with him to accelerate our recovery, grow the economy, create jobs and tackle America's global challenges."
In another move that pleased business leaders, the president pushed through a two-year extension on the Bush-era tax cuts, despite criticism that the cuts favor wealthy individuals making at least $250,000 a year.
But chief adviser Valerie Jarrett recently said the president intends to let the extension expire in 2012.
"We're not going to extend those tax breaks for the very wealthy indefinitely," Jarrett said in a Dec. 26 interview on NBC's "Meet the Press." "We'll see in the next year and the year after he's going to fight very hard when those two-year extensions expire to cut off the income break for the very wealthy."
So is Obama really changing his tune on big business? Or is the president merely glad-handing big business while plowing ahead with his 2012 goal of making the rich pay more?
"Obama was never anti-business; that is a picture drawn by the GOP," said political scientist Julian Zelizer, professor of history and public affairs at Princeton University. "He is a child of the Clinton era and believes very strongly in cooperative business-government relations. So I think this is all an extension of who he is, rather than some kind of new turn."
-- CNN's Ed Henry and Dan Lothian contributed to this story