Verizon iPhone will go on sale Feb. 10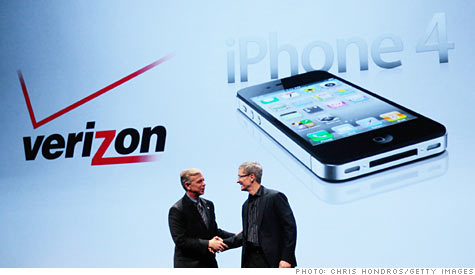 NEW YORK (CNNMoney) -- The wait is over. Verizon Wireless said Tuesday it will begin selling Apple's iPhone early next month, ending AT&T's four-year run as the phone's exclusive carrier.

"If the press writes something long enough and hard enough, it eventually comes true," Verizon President Lowell McAdam said at a press conference in New York City. "Today, we're bringing to market the fruit of our labor with another giant of the high-tech industry, and that's Apple."

Existing Verizon customers will be able to pre-order the phone beginning Feb. 3. The phone will launch in Apple and Verizon stores and online on Feb. 10, according to Verizon Wireless CEO Dan Mead. Verizon customers eligible for "new every two" upgrades will be able to use those upgrade credits toward an iPhone.

The Verizon (VZ, Fortune 500) iPhone is a modified version of Apple's (AAPL, Fortune 500) iPhone 4, adapted to run on Verizon's CDMA network. With a two-year contract, the Verizon iPhone will be $199 for a 16 GB device and $299 for the 32 GB version, the same prices AT&T offers.
Relying on Verizon's older 3G CDMA network, instead of its fledgling 4G LTE network, means Verizon's iPhone will have a few shortcomings. Most glaringly: Customers wouldn't be able to chat on the phone and surf the Web simultaneously, as they can on AT&T's iPhone.
The early LTE (Long-Term Evolution) chip sets just weren't ready yet, Apple COO Tim Cook said at Verizon's event.

"The first-generation LTE chip sets force some design compromises, some of which we would not make," Cook said. "Secondly -- and most importantly -- Verizon Wireless customers have told us they want the iPhone now."
Verizon's iPhone will have one new feature AT&T's version lacks: The built-in ability to use it as a wireless hotspot and connect up to five additional devices.

Verizon Wireless' Mead said he's confident customers will be pleased with his company's offering.

"We have a tremendous 3G network, the best in the country, and we want customers to be able to take advantage," he said. "This was the best thing to do, at this time, for our customers."

Existing AT&T customers who want to switch carriers will need to purchase a new device -- and they'll face early termination fees of up to $325 to break an ongoing contract.

Apple CEO Steve Jobs did not appear at the short event, which Verizon CEO Ivan Seidenberg also skipped.

In another glaring omission, Verizon executives declined to discuss pricing on the data plan for its iPhone.
Verizon currently sells its smartphone customers unlimited data access for $30 a month. That's an option AT&T no longer offers. In June, AT&T replaced its unlimited data plan with a tiered model offering either 200 MB a month for $15 or 2 GB a month for $25.

"We talked about the device pricing, but we're not going to talk about the pricing for the network for that connectivity," Mead said. "We'll have announcements in the future."
Asked when an LTE Verizon iPhone will be available, Apple's Cook said he was "not going to comment on any unannounced products."

He did let slip one important and intriguing detail of Apple's Verizon deal: It's not exclusive. That means the CDMA iPhone could eventually come to other carriers who also rely on CDMA networks, like Sprint.