The Chinese auto bubble threat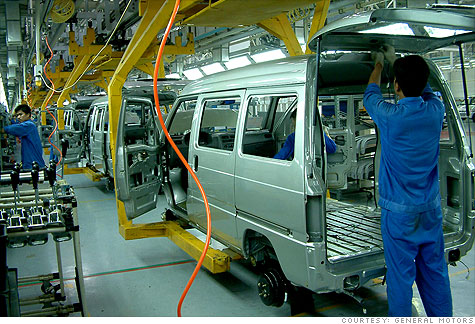 DETROIT (CNNMoney) -- More cars were sold in China last year than in any other country at any time in history. And industry officials only expect those sales to grow.
But the rush to build more cars in China to feed that growing market could soon become a big problem.
The more than 30% sales growth achieved in China in 2010 -- to more than 18 million vehicles -- is probably unsustainable, especially as government officials are moving to put the brakes on car purchases.
Beijing is limiting new vehicle registrations to deal with the congestion that can make what reportedly should be a 30-minute ride from the airport to downturn into a two-hour odyssey most days.
The sales taxes on small car purchases, which were cut to 5% two years ago as part of China's stimulus efforts, rose back to 10% as of Jan. 1. That means some of the strong sales at the end of 2010 likely came at the expense of this year's sales.
Experts expect sales growth in China to slow to 10-15% this year. But many automakers are making investments based on the assumption of continued strong sales gains.
Ford Motor (F, Fortune 500), is expanding its Chinese capacity by about 50%.
"We certainly have ambitious growth plans for the future," said Joe Hinrichs, president of the Asia Pacific and African unit at Ford, about its efforts to catch-up with which is playing catch-up in China with global rivals such as General Motors (GM), Toyota (TM) and Volkswagen.
GM, the leading automaker in China with its joint ventures there capturing about 13% of sales, is trying to add to its lead with two new plants now under construction.
"In China, our plan is to stay about a half a plant ahead of demand. But over the last 24 months the market has grown so fast that we're about a half a plant behind," said Timothy Lee, GM's Shanghai-based president of International Operations, during a visit to the Detroit auto show this week.
The combination of slowing growth and increased investment could become a prescription for overcapacity sooner rather than later. That may turn the industry's biggest success story into its biggest headache before long..
A survey at the end of last year by 200 top executives from automakers and suppliers by accounting firm KPMG found two-thirds expect to increase their investment in China in the coming years.
Still, executives acknowledged the risk of overcapacity. Half of those surveyed by KPMG identified China as the growth market likely to become the most overbuilt in the next five years, with another 27% identifying it as the second or third most overbuilt market.
Part of the problem is that it takes two years from starting work on a new plant to the first car rolling off the line. So by the time the new capacity is online, the market conditions and planning assumptions could have changed.
Even if the global automakers and suppliers pull back on investments, Chinese car companies, supported by provincial governments that want the jobs and prestige that go with the auto plants, are likely to keep building, said Marco Gerrits, a China-based principal with the Boston Consulting Group.
"I think the foreign automakers will be much more careful of the capacity they put in place, said Gerrits. "But the local automakers think from a very different perspective. They're not responsible about the cost of the investment. They seem to be much more irrational about capacity."
If overcapacity comes to China, foreign automakers may be forced to try to export the vehicles being built there to other markets. Mark Reuss, president of GM North America, conceded during the auto show that GM has studied the economics of exporting cars built in China to the United States, but decided not to do so.
There are safety regulations that could make it difficult to get Chinese autos approved for the U.S. or European markets. But the bigger risk from the automakers' perspective is that if or when overcapacity comes to China, it could quickly lead to lower vehicle prices -- and profits.
"Capacity in China is something we want to watch carefully," said GM's Lee. "When overcapacity exists, the fundamental laws of supply and demand tell you that someone is going to lose discipline on price and that's a problem."