Get ready for (slightly) fatter paychecks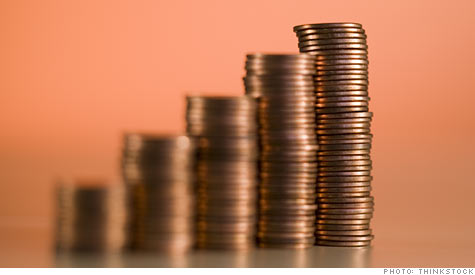 NEW YORK (CNNMoney) -- The most obvious sign of the economic recovery may be in your paycheck.
As companies return to profitability, many plan to award employees with better raises in 2011 after years of stagnant wages, according to two recent reports.
More than 98% of companies said they plan to increase base pay in 2011, according to Mercer's recent compensation survey.
And separate survey by human resources firm Towers Watson found that fewer companies are freezing salaries this year, with only 5% planning to do so in 2011, down from 12% last year and 32% in 2009.
But employees may have to squint to see a difference in their take-home pay.
The employers surveyed by Mercer said that the average increase is expected to be 2.8% in 2011, up from 2.7% last year.
A 2.8% raise comes out to about $38 more per paycheck after taxes for a full-time worker, assuming the employee makes the median annual income of $50,500 and is paid biweekly.
"Wage growth is going to be very limited this year, but at least it's heading in the right direction," said Joseph Coombs, a workplace trends and forecasting specialist for the Society of Human Resources.
Despite the improvement, workers are for the most part still trying to work their way back to break even. During the recession, high unemployment and slow economic growth took a toll on wages. After declining in 2009 and staying mostly flat in 2010, national average wage levels are now no higher than they were at the start of 2008, three years ago, according to a report released Tuesday by PayScale.com.
Meanwhile, the cost of goods has increased, reducing consumer buying power, the salary-tracking firm said.
But as business conditions improve and the job market starts to show signs of life, companies are gaining the flexibility to pay their workers more - and they have more incentive to try and retain top talent, Coombs explained.
"For employees who suffered with their employers through the worst of the recession, things have largely stabilized now and we can look forward to some incremental improvement," added Laury Sejen, a rewards practice leader at Towers Watson.
Even though most indicators point to an improvement in the year ahead, Al Lee, PayScale's director of quantitative analysis, notes that employers are still far from the days of awarding hefty annual raises.
"At the end of next year the odds are you are not going to be seeing a fat raise," he said. "If you get a percent or two, be happy."