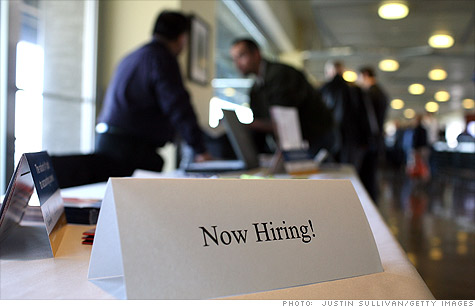 Economists are raising forecasts for job gains in December and 2011, as employers seem more eager to add staff for the first time in years.
NEW YORK (CNNMoney) -- "Hire more workers" appears to be a popular New Year's resolution for employers this year.
Economists are raising their forecasts for employment growth, as various job readings are suggesting that the long-awaited hiring boom may finally be here -- or at least near.
"It's about time," said economist Robert Brusca of FAO Economics.
All eyes will be on the monthly employment report from the Department of Labor, due out on Friday, which will show how many jobs were added to payrolls last month.
"There's a lot of reason to think we could get a big number for December," Brusca said.
Economists surveyed by CNNMoney are predicting a gain of 150,000 jobs, which would be a big jump from the 90,000 jobs added in November. The economists also expect that disappointing number to be revised higher, to just more than 60,000 new jobs.
Brusca, the most bullish of those surveyed, is forecasting a gain of 300,000 jobs for December.
Signs of life in the job market: The four-week moving average of those filing for first-time unemployment benefits fell to the lowest level in more than two years in the most recent reading.

And Wednesday, a report showed that 297,000 private sector jobs were added in December, according to payroll services firm Automatic Data Processing. That's the largest gain since ADP began tracking jobs in 2000. The report is viewed as a bellwether of the government jobs reading that follows, leading some economists, including Brusca, to raise their forecasts for December's payroll reading.
In addition, job placement firm Challenger, Gray and Christmas reported only 32,004 job cuts announced in December, the lowest number since 2000.
Strength in the broader economy: Signs of better hiring ahead are also present in a variety of economic readings, from strong holiday sales figures to increased demand for autos.
December same-store sales increased 3.1%, marking a 15-month streak in the measure, and bringing holiday sales back above pre-recession levels. And U.S. auto sales rose 11% in December, capping the strongest quarter of sales since the fall of 2008 when the industry was roiled by the financial crisis.

"We've seen a lot of the indicators come in better than expected," said Sam Bullard, senior economist with Wells Fargo Securities, which is forecasting a gain of 156,000 jobs in December, and November's gain to be revised up to 100,000. "It does seem that the acceleration in hiring is starting."
More hiring on main street: One key factor lifting expectations is that small businesses seem to have caught the hiring bug, Bullard said. About seven out of eight jobs added in the ADP report came from small and medium-sized companies.
And a December survey of more than 1,700 small business CEOs conducted by Vistage found 54% expect to increase staff in the next 12 months. It's the first time in more than three years that survey has shown more than half of those bosses planning to hire, said Rafael Pastor, CEO of the small business membership group.
"This is a remarkable leap in confidence in both the overall economy and hiring," said Pastor. He attributes the hiring to the fact that 77% believe their revenue will increase in the next year and that they'll need more staff to capture those additional sales.
He said in the current environment, it is more risky not to add staff than it is to hire, a change from the uncertainty most small businesses faced only a few months ago.
Still, unemployment is expected to stay high; CNNMoney's survey forecasts a 9.7% unemployment rate in December, down only slightly from the 9.8% reading in November. The improved labor market could keep that number relatively high even as hiring picks up, as long-term jobless not counted among the unemployed start seeking work once again.
But the key number, according to economists, is the number of jobs being added, not the unemployment rate.
Some economists believe that snow storms in December in the East and Midwest could keep Friday's report in check.
"At this time of the year, it is not uncommon for economic data releases to essentially be weather reports," said Joseph LaVorgna, chief U.S. economist for Deutsche Bank. But Deutsche Bank still raised its December payroll estimate to 150,000 on Wednesday from 100,000, in the wake of the positive news.
Even if December's payroll number is modest, many economists are forecasting much stronger hiring ahead. The average full-year forecast of the 27 economists is for 2.3 million jobs added in 2011, or just under 200,000 a month. That's more than double the pace of hiring forecast for all of last year.