Autoworkers to get profit-sharing bonuses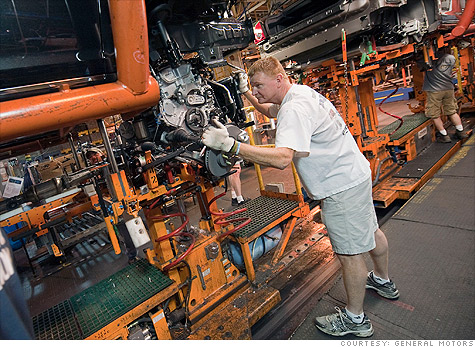 DETROIT (CNNMoney) -- Autoworkers at General Motors and Ford Motor are about to get large profit-sharing checks that could shape the future of the auto industry.

The management at those companies, as well as at Chrysler Group, wants the labor contracts due to be negotiated this fall to include bonuses tied to profits, vehicle quality and other performance measures, rather than straight wage increases.

"I want to make sure we're paying our employees not for effort, but results and performance," said Mark Reuss, president of GM's North American unit, at the Detroit Auto Show here this week. "When we perform and we have good results, then every employee in this company ought to know that we're going to do good things for them on a pay basis."
Reuss said the bonus payments wouldn't necessarily be tied to just profits, but could also reward vehicle quality. He's already talked to the new United Auto Workers President Bob King about including it in the new contract when the current pact expires in September. He suggested the union boss is open to such a change.
"We both want pretty much the same thing. It's going to be a good conversation to have," said Reuss.
King, through a union spokeswoman, declined to comment for this article.
Ford spokeswoman Marcey Evans said Ford is interested in much the same bargaining goals.
"We are looking at various proposals linking employee compensation to company performance, which could include quality as a metric," she said. "We will continue to explore our options with the UAW as we enter into 2011 negotiations."
Chrysler Group CEO Sergio Marchionne declined to outline his negotiating goals when asked about them during the auto show. Because Chrysler has yet to report a net profit, its hourly workers won't be seeing the profit-sharing checks their counterparts at GM and Ford are likely to receive soon. But the three automakers have long operated under contracts that follow a similar pattern.
David Cole, chairman of the Center for Automotive Research, a Michigan think tank, said the willingness of management to talk about the need for more profit sharing is a clear sign that the union is indeed willing to move in that direction in the upcoming talks.
"Clearly the focus of negotiations will be profit sharing," said Cole. "I don't think you'd see this raised if it was not something that had been discussed with UAW."
A shift toward compensation tied to results would be a tremendous advantage to the automakers, who have suffered from the cyclical nature of sales and the inability to quickly lower their costs during the troughs.
But it could be difficult to get the UAW to agree to the bonus plan management wants, said Gary Chaison, professor of industrial relations at Clark University.
"I don't think they would have gone public unless there was willingness of UAW to at least talk about it," he said. "But there will be reluctance -- it's the old story about becoming the senior partner in failure and junior partner in success."
Chaison said the fat profit-sharing checks that Ford and GM rank-and-file autoworkers are about to receive could make them more open to a new plan. But he said they'll probably also want to recoup some of the concessions they made during the painful restructuring of recent years.
"The membership feels they've revived the companies on their back and now it's time to be repaid," he said.
Unions at GM and Chrysler will not be able to strike during contract negotiations because of terms reached during those companies' bankruptcy processes.
Ford sought to get the same no-strike guarantee, but rank-and-file workers rejected that provision. Ford had the most success last year of the three automakers in its North American operations, the basis of the profit-sharing bonus system.
Basic UAW deals have included some form of profit sharing for more than a decade. Workers at Ford got $450 for the North American results in 2009. The 2010 profit-sharing payments will be announced when the companies report fourth quarter results in the coming weeks.