Larry Summers: More jobs are coming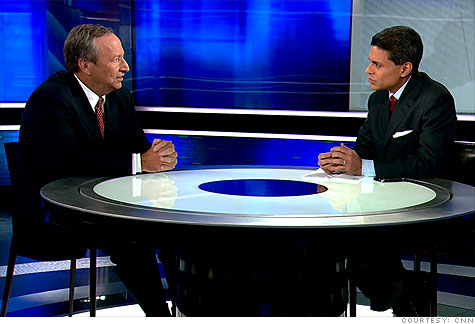 NEW YORK (CNNMoney) -- While the economy is still reeling from 8.5 million jobs lost in the recession, the outlook for job growth in America is looking up, former White House economic advisor Larry Summers said in an exclusive interview airing on CNN Sunday.
"I think the prospects for starting to see significant employment growth and reductions in unemployment right now are better than they've been in the United States in a number of years," he told CNN's Fareed Zakaria.
Until two weeks ago, Summers was President Obama's chief economic advisor. A high-profile figure in business circles, he also served stints as the president of Harvard University and the Secretary of the Treasury under President Bill Clinton.
In the interview with Zakaria, he discusses the job market, friction between President Obama and big business, and his outlook for the recovery.
Summers is somewhat optimistic about the economy, expecting it to grow at a rate of 3% to 4% over the next few years.
But most economists say that's still not enough to make for significant job gains.
Summers pointed to the construction industry specifically, to highlight how the housing crash will continue to reverberate through the job market for years to come.
"Now, because we have an overhang of houses that are vacant, malls that are vacant, of office buildings that are vacant, we have this tremendous drop in the demand for construction workers," he said. "...For a certain class of men who haven't gone to college, that's a substantial part of employment."
Health care and the IT industry, however, are likely to see job growth ahead, he said.
"Some of the jobs that were lost aren't going to come back, but some of the jobs are going to come in new places," he said.
Summers hailed the tax compromise signed by Obama last month as a key step toward raising domestic demand. The $800 billion deal includes a payroll tax holiday that will help many Americans, and hopefully spur employment, he said.
At the same time, Summers also pushed Obama's goal of doubling exports over the next five years, and argued for cutting the national deficit. He also suggested infrastructure projects as a way to boost construction jobs.
As for corporate America's friction with Obama -- Summers pointed to corporate profits rising 60% over the last two years as a sign of progress in the private sector.
Obama's economic team has seen a wave of departures in recent months, with Summers leaving to return to Harvard. Gene Sperling, formerly a counselor to Treasury Secretary Timothy Geithner, was named Summers' successor.

See the full interview with Larry Summers on CNN's Fareed Zakaria GPS, airing Sunday, January 16 at 10 a.m. and 1 p.m. ET.