As Tim Cook takes over, Apple is poised to shatter sales record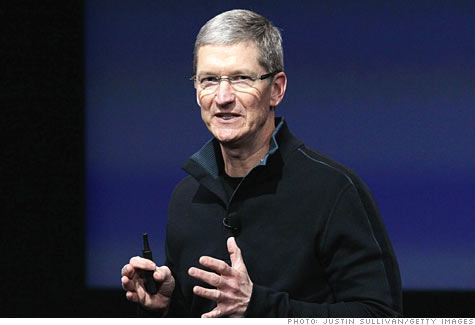 NEW YORK (CNNMoney) -- Steve Jobs has again stepped aside from the day to day operations of Apple, forcing the company's followers to confront the uncomfortable question: What would happen to Apple without its iconic CEO?
For the third time since 2004 and the second time in two years, Jobs is temporarily handing the company's reins over to Tim Cook, Apple's chief operating officer and Jobs' right hand man. As in the past, Jobs said he would continue to make Apple's major strategic decisions while out on medical leave, but this time, Jobs gave no timetable for his return.
Since his second run at Apple's helm began in 1997, Jobs has transformed the company from a bumbling also-ran to the second-largest company in the world by market value. Billion-dollar products like the iMac, iTunes, iPod, iPhone, and most recently the iPad have made Apple the envy of all tech competitors.
Can that success rate be matched if Jobs never returns to 1 Infinite Loop?
At least in the short term, that answer appears to be a resounding "yes."
On Tuesday, Apple will report financial results that are almost certain to shatter its past records. Wall Street analysts estimate that the company raked in sales of more than $24 billion during the last quarter, driven by strong iPad demand during the holiday season.
The rest of 2011 is filled with bright spots. Apple (AAPL, Fortune 500) is scheduled to introduce the iPhone 4 on the Verizon Wireless network on Feb. 10. The iPad 2 is on the horizon for this spring, and the new Mac OS X "Lion" operating system is expected to go on sale later this year as well.
In other words, Tim Cook is taking over at the company's peak.
"The fears are overblown," said Laura DiDio, principal analyst at ITIC. "Apple can live off of the success of the iPad and the iPhone for many years to come."
Cook is universally praised for his business acumen. He has nearly 30 years of experience in the computer industry, serving in leadership roles at IBM, Intelligent Electronics and Compaq before joining Apple in 1998.
Cook quickly gained the favor of the notoriously hard-to-please Jobs, and he was named COO in 2005 after having "been doing this job for over two years," Jobs said at the time. Jobs even gave Cook an office near his in Apple's Cupertino headquarters.
Apple performed very well during Jobs' last leave of absence with Cook at the helm: Its stock price rose 67% during those six months. Apple's board awarded Cook a $5 million cash bonus last year in recognition of his "outstanding performance" running Apple during Jobs' 2009 leave of absence.
"There is a lot of respect for Tim Cook internally at Apple and externally, and he has proved to be able to drive the company well," said Carolina Milanesi, analyst at Gartner.
But the more distant future is harder to forecast. Without the creative genius of Steve Jobs, is Tim Cook capable of producing another "unicorn" product that will bring the company the kind of success that the iPhone, iPod and iPad produced over the last decade?
Cook is responsible for Apple's product sales and operations, overseeing the company's manufacturing, distribution and inventories, as well as negotiating with wireless networks that carry the iPhone. He organized Apple's successful retail store strategy, and he is in charge of ensuring that Apple's new products launch without any setbacks or major glitches.
But what makes Apple cool and popular -- the products' design and marketing -- falls directly under Steve Jobs' purview. That's a field in which Cook has largely been untested.
"While Tim Cook is likely a very able chief operating officer, it is likely that his skills complement those of Jobs -- the most important of which is coming up with a stream of highly popular new product ideas and getting them into the market," said Peter Cohan, a venture capitalist and management consultant at Peter S. Cohan & Associates.
As for Jobs, the CEO said in an internal memo that he has "great confidence" that Cook and the rest of the Apple management team will execute the company's 2011 plans.
"Jobs is as close to indispensable as a CEO could be," said DiDio. "Nonetheless, his vision is in place, and that's not going to go away."

And some say his greatest strategic move was building a company that's prepared to outlast him.
"Steve Jobs is an iconic leader who has proven himself both an unmatched marketer, but also a skilled operator. That skill includes building a world-class senior team," said Barry Jaruzelski, management consultant at Booz & Co. "Apple is not dependent on a single individual. It has deep bench strength at every level."
-- Reporting from Fortune's Adam Lashinsky was used for this article