Apple sets new record with sales of $27 billion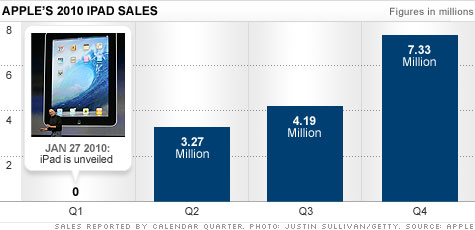 NEW YORK (CNNMoney) -- Apple reported results on Tuesday for its best-ever quarter, with revenue of $26.7 billion driven by holiday iPad and iPhone sales that were much better than forecast. Apple's profit of $6 billion also set a new record.
The Cupertino, Calif., company sold 7.3 million iPads in the quarter, easily surpassing the expectations of nearly every Wall Street analyst. Those sales essentially matched iPad sales from the previous two quarters combined.
The iPad's success is coming from multiple sources. While Apple's Macintosh computers have always struggled for traction in the business world, Apple said the iPad is generating strong crossover interest from business customers. Around 80% of Fortune 100 companies have deployed the tablet for their employees.
Apple also announced that it sold a record 16.2 million iPhones, just before the smartphone goes on sale on the Verizon Wireless network, beginning next month.
"We had a phenomenal holiday quarter," CEO Steve Jobs said in a prepared statement. "We are firing on all cylinders and we've got some exciting things in the pipeline for this year including iPhone 4 on Verizon, which customers can't wait to get their hands on."
The company sold 4.1 million Macintosh computers and 19.5 million iPods during the its fiscal first quarter, which ended Dec. 25. Mac sales were at an all-time high, but still a bit below analysts' expectations. On a conference call with analysts, that raised a question about whether the iPad was cannibalizing Mac sales.
"Yeah, I think there is some cannibalization, but there is also a halo effect," said Apple Chief Operating Officer Tim Cook, referring to the way sales of one Apple product can lead to sales of other Apple gizmos. "If this is cannibalization, it feels pretty good."
The company also noted that iPad sales will likely fall back somewhat in the current quarter, since the tablet proved to be a hot holiday purchase. The iPod follows a similar trend, with holiday-quarter sales typically doubling the average sales from the other three quarters.
Apple continues to add new revenue streams. The $4.4 billion in iPad sales during the quarter come from a product that didn't exist a year ago -- the tablet computer first went on sale in April. The company also expanded its chain of retail stores, which reached $1 billion in sales for the first time.
The news comes a day after Jobs temporarily stepped down from his job, taking his second medical leave of absence in two years, and his third since 2004.
In his stead, Cook will once again handle all day-to-day operations.
In the conference call following the financial results release, some analysts asked about Apple's business plan for the future -- especially if Jobs does not return to the company.
In response, Cook said the Apple team has "incredible depth of talent and a culture of innovation that Steve has driven, and excellence has become a habit."
He added: "We have incredible hope for the future of the company."
Apple usually provides a conservative outlook for the current quarter, but this time the company blew away analysts' forecasts. The company said it expects earnings of $4.90 per share on revenue of $22 billion this quarter, compared to Wall Street's expectation of $4.47 per share on $20.8 billion of sales.

Shares of Apple (AAPL, Fortune 500) rose more than 1% afterhours, after closing down 2% on Tuesday, in the first day of trading following Jobs' announcement.