Steve Jobs' departure pushes Apple stock down 2.25%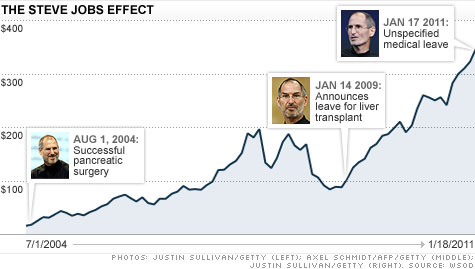 NEW YORK (CNNMoney) -- Shares of Apple fell Tuesday, one day after chief executive and co-founder Steve Jobs announced another leave of absence because of health problems.
The stock price for Apple Inc., (AAPL, Fortune 500) creator of the iPhone, iPod and Mac computers, shed nearly 4% in early trading, before bouncing back a bit to close down 2.25%.
This is the second time in two years that Jobs, 55, has taken time off from his company because of a medical condition. This time the leave of absence was unexpected, and it comes as Apple is preparing to announce its quarterly earnings after Tuesday's closing bell.
After the market close on Tuesday, Apple reported its best-ever quarter, with revenue of $26.7 billion driven by holiday iPad and iPhone sales that were much better than forecast. Apple's profit of $6 billion also set a new record.
Jobs informed Apple employees of the situation in a letter. Apple's chief operating officer, Tim Cook, will run the company in his absence.
"At my request, the board of directors has granted me a medical leave of absence so I can focus on my health," said Jobs in the letter. "I will continue as CEO and be involved in major strategic decisions for the company."
Jobs did not provide details on his recent health problems, which have been a source of speculation in the past.
The problems first became apparent in 2003, when he was treated for pancreatic cancer. After he lost a noticeable amount of weight, he took a leave of absence starting in January 2009, returning to work in June after receiving a liver transplant. Apple's stock slipped about 2.3% immediately following both of his previous medical-related announcements but the stock is up