U.S. for sale - Uncle Sam's real estate play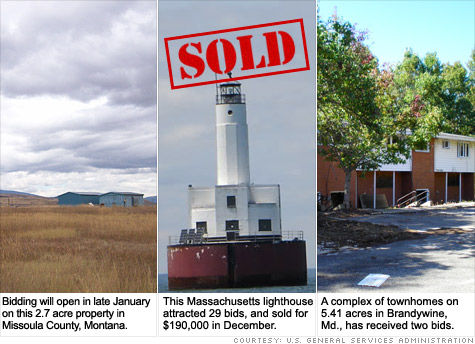 NEW YORK (CNNMoney) -- As Washington deficit hawks scour the federal budget for ways to trim the size of government, they are arriving at one idea with increasing frequency: Put government property on the auction block.
It's an opportunity rooted in the scale of federal holdings. The government owns somewhere in the neighborhood of 650 million acres of land peppered with 429,000 buildings.
That has lawmakers on both sides of the aisle salivating as they look for ways to make a dent in the budget deficit. And not just because the federal government has a lot of property it could unload, but because more than 10% of the buildings are of only marginal use.
The roster runs the full range: Lighthouses. Empty buildings no longer used. Big plots of land that once housed government depots.
In fiscal year 2009, the most recent year for which numbers are available, 45,190 buildings were categorized by the government as underutilized. On top of those, 10,327 were counted as "excess" or unwanted.
The government's push to sell off excess property started under President George W. Bush. The first step was figuring out how many buildings it owned.
"There was no inventory of what the federal government owned," said Clay Johnson III, deputy director for management at the Office of Management and Budget during the Bush Administration. "We asked all agencies to categorize and catalog their holdings."
Once catalogued, the Bush administration encouraged agencies to scale back. The Obama administration followed suit. In June, President Obama directed government agencies to save $8 billion by selling excess property and making other cuts.
The calls for reform continue to mount. Obama's fiscal commission incorporated the idea into its budget-slashing proposal, and a bill introduced by a key Republican earlier this month suggested as much as $15 billion could be saved.
Compared to the $3.5 trillion annual federal budget, that's chump change.
Despite all the talk, massive savings aren't exactly stacking up.
In 2009, government agencies sold only 2,200 buildings -- while more than 10,000 were identified as "excess." The previous year, only 835 buildings were sold, according to the General Services Administration.
So if 10,000 buildings were classified as excess, why were only 2,200 unloaded?
Law requires the GSA, which acts as the government's property manager, to offer unwanted property to states, local governments and nonprofit organizations, at discounts of up to 100%, before auctioning the property.
In addition, surplus government buildings must be offered up as housing for the homeless before being sold.
What's up for grabs: The result is a GSA auction website that currently lists a mere 23 properties, with nine open for bidding.
Curiously, the government list includes three lighthouses -- two in New Jersey and one in Massachusetts. The Massachusetts property attracted 29 bids and recently sold for $190,000.
Another property up for auction: Point Stratford, a sprawling 77-acre military instillation formerly used by the Army to manufacture engines.
There are also a few more conventional properties available, including a former Social Security Trust building in Hackensack, N.J., that is attracting bids in excess of $500,000.
Solutions: In a 2009 letter to Rep. Ron Kind, Congressional Budget Office Director Douglas Elmendorf laid out ways to increase revenue from the sale of federal property.
Revenue could be increased by directing the GSA to take all surplus buildings directly to auction, bypassing the cumbersome review currently required, Elmendorf said.
He also proposed changing the incentive structure for federal agencies in an effort to monetarily reward them for reducing their building count.
Meanwhile, the Obama administration says it has already identified $1.7 billion in savings, and has sold an office building in Omaha, Neb., for $1.3 million, one in Springfield, Mass., for $2.5 million, and one in Bethesda, Md., for $12.4 million.