Are prepaid cards right for your kid?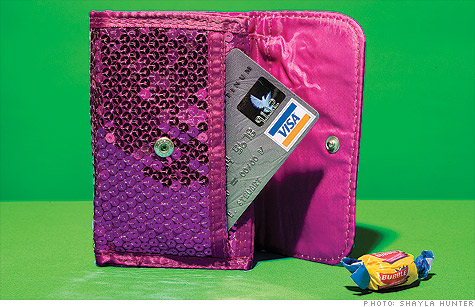 (Money Magazine) -- A sure sign you ought to be wary of prepaid cards? The fact that celebutante Kim Kardashian and her sisters were recently hawking one.
The prepaid market has been growing rapidly -- the amount of money put onto these reloadable cards increased an estimated 45% from 2009 to 2010, to $42 billion, according to research firm Mercator Advisory Group.
And young people represent a prime audience. While the Kardashian Kard was the most recent one aimed at teens, it has plenty of company, including Visa Buxx, American Express PASS, Mango MasterCard, and others.
Prepaid plastic can be a useful tool for parents who want to monitor a child's spending and teach budgeting.
But such lessons come at a price: The cards are often riddled with fees. (The Kardashian Kard was actually taken off the market following negative press about its hefty charges.) So are they worth that tradeoff?
When prepaid makes sense
Prepaid cards offer the convenience of credit, without the risk of debt: You upload money, which your child can withdraw at an ATM or spend wherever credit cards are accepted.
The downside is the fees. These cards cost as much as $20 to activate, $10 a month for maintenance, and $2.50 at the ATM, on top of a host of other charges.
A debit card linked to a checking account would serve a similar purpose for less, but many banks won't issue debit cards to teens under 16 or 18. So, in spite of the costs, prepaid plastic is worth considering if you're giving a younger teen a chunk of money -- for a school trip, say, or to learn to budget a month's allowance.
Just be sure he's responsible with cash first, says Jeff Opdyke, author of "Piggybanking." "Kids need to experience real dollars before experiencing money on a card."
Which card to choose
If you're going to get your kid a pre-paid card, you've got to shop around, says Gerri Detweiler of Credit.com. Favor ones that don't charge activation, usage, or inactivity fees.
Also, avoid cards that allow users to spend over the balance, as a card permitting this not only teaches the wrong lesson but can also lead to overdraft fees up to $25.
One of the better options, according to Detweiler: Mango MasterCard. It has among the lowest charges -- $2 at the ATM and $5 a month for maintenance -- and doesn't allow overdrafts.
How to use it to teach
Put no more than a month's worth of money on the card at a time, advises Neale Godfrey, author of "Money Doesn't Grow on Trees." And go over the statements together, helping your child see any missteps in his or her spending decisions.
Eventually Junior will figure things out, Opdyke says. "That may happen within six months or it may not happen until your child is in college." But when it does, you'll know your kid is ready for the next step: a bank account.