EBay stock pops 5% on strong sales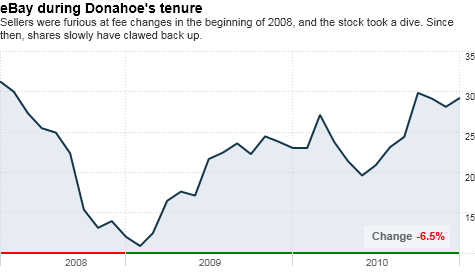 NEW YORK (CNNMoney) -- John Donahoe took the helm at eBay at the start of 2008, just as the company unveiled a slew of changes to the decade-old online marketplace. A major revamp of eBay's fee structure and feedback policy was meant to shore up market share, but veteran sellers were furious and threatened revolt.
The company has clawed its way back up since those torrid times. On Wednesday, the San Jose, Calif., e-commerce giant reported quarterly results that beat Wall Street expectations and raised its outlook for the year.
PayPal and mobile especially helped the company during last quarter's holiday season.
EBay said its fourth-quarter revenue rose 5% over the prior year, to $2.5 billion. Net income rose to 42 cents a share, or $559.2 million. EBay (EBAY, Fortune 500) shares rose 5% in after-hours trading.
PayPal and mobile payments shine: Online payment service PayPal ended the fourth quarter with 94.4 million active registered accounts and is adding about 1 million active accounts per month.
PayPal's "net total payment volume" was $26.9 billion last quarter. The biggest growth came in mobile: For the full year, the volume of PayPal mobile payments increased to a whopping five times 2009's total.
Those figures weren't broken out, but eBay said its "portfolio of mobile applications" were popular with holiday shoppers. The company's overall mobile gross merchandise volume -- the total of stuff it sold to those shopping on their smartphones and other gadgets -- was almost $2 billion for the full year.
Europe was another bright spot, Donahoe noted in a conference call with analysts. But he's not as pleased with domestic figures.
"We're on a good trajectory, but I'm not totally satisfied with where we are in the U.S.," Donahoe said on the call.
Who's selling and for how much: The number of active eBay users rose 5% over the year to 94.5 million.
Another widely watched metric is eBay's gross merchandise volume (GMV), which is the total value of items auctioned. Excluding vehicles, GMV for the fourth quarter was $15 billion.
EBay has come a long way from 2008. The company's stock took a dive in the first months of Donahoe's tenure, as the site's core sellers spearheaded protests, including a week-long boycott -- and many jumped ship, moving their online storefronts to other sites like Amazon (AMZN, Fortune 500).
The fee changes reduced some upfront costs but raised the commission eBay takes on completed sales. That hike was painful for small businesses that depend on meager profit margins.
Even more incendiary, though, was the site's decision to block sellers from leaving negative feedback about buyers. EBay's feedback system had been a two-way street, which helped the site differentiate itself from early competitors. Sellers were not happy to be silenced.
That lingering bitterness turned eBay from a site with a strong user community into a more generic sales platform.
But the changes did eventually pay off on the bottom line. For 2010, eBay's full-year revenue hit a record $9.2 billion -- up 21% from the $7.7 billion it had in 2007.