GM taps first woman as product development chief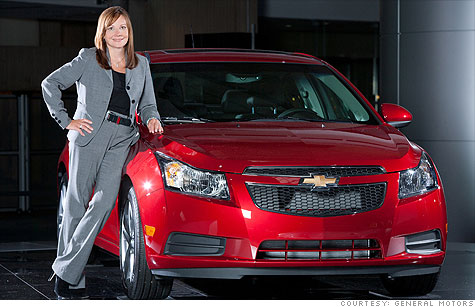 NEW YORK (CNNMoney) -- General Motors promoted Mary Barra as its new head of product development, the first woman to hold that key position at a major automaker.
Barra, 49, will oversee 36,000 engineers, designers and other staff at GM locations around the globe. She comes to the job with an engineering background, having served as vice president of GM's global manufacturing engineering in the past, as well as having experience as a plant manager and in internal communications at the company. She most recently served as vice president of human resources at GM.
In an industry which has long been controlled by male executives, product development has been a particularly male-dominated domain, said Lorraine Schultz, founder and CEO of the Women's Automotive Association International.
"This is breaking an important barrier, and it's well overdue," said Schultz.
Product development is a crucial role at an automaker, as the strength or weakness of a product lineup can significantly affect sales and profitability.
After years of poorly-reviewed vehicles, GM (GM) has been getting better grades on its vehicle offerings recently, winning the car of the year honors at the Detroit auto show for the electric plug-in Chevrolet Volt, its first win of that prestigious award in three years.
Barra worked on the engineering of GM's popular and successful crossover vehicles, the Buick Enclave and GMC Acadia, during her time in engineering.
"We've been watching Mary Barra for a long time. She's been an up-and-comer so it wasn't a total shock," said Michelle Krebs, senior analyst at Edmunds.com. "It is significant that she got this job and it makes a lot of sense. Over 80% of vehicle purchase decisions in the U.S. are influenced by women."
Krebs said GM's vehicle lineup is significantly better than it used to be, but it still has some way to go to be tops in the industry. Rival Ford Motor (F, Fortune 500) has been getting even better marks for its vehicle lineup. Ford's Explorer won the truck of the year honors this year and it swept the car and truck awards in 2010.
Barra will assume her new job on Feb. 1. She succeeds GM Vice Chairman Thomas Stephens, who was shifted Wednesday from head of product development to a newly-created position of global chief technology officer.
While Barra has worked at GM since college, her promotion is another sign of the whirlwind of changes at the executive team the last two years at GM, a company known for glacial change in top management in the past. None of the top 12 executives in GM's lineup of senior management held their current position at the time the company emerged from bankruptcy in July 2009.