Anheuser-Busch unleashes the Clydesdales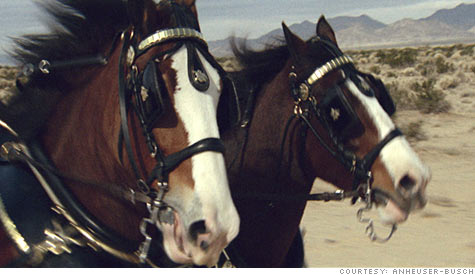 NEW YORK (CNNMoney) -- Anheuser-Busch said Friday it will feature five commercials during the upcoming broadcast of the 2011 Super Bowl, reaffirming its position as one of the most prolific advertisers for the big game.
The brewer also announced that it will be the exclusive beer advertiser for the Super Bowl for the 23rd consecutive year.
Anheuser-Busch (BUD) will continue to focus on Budweiser and Bud Light in its Super Bowl ads. But this year, the brewer will also advertise the Belgian-brewed Stella Artois for the first time. St. Louis-based Anheuser-Busch has been controlled by InBev, a Belgium-based brewer, since 2008.
Keeping with its American tradition, the brewer will continue to feature the Clydesdales in its ads. The heavy horses will appear in an ad called "Wild West," co-starring with a "thirsty gunslinger with an itchy trigger-finger," according to Anheuser-Busch.
In another Super Bowl first, Anheuser-Busch will air 15-second teasers of the ads during Sunday's game, a week ahead of the Super Bowl, which is scheduled for Feb. 6.
With ads averaging $3 million per 30-second spot, only Pepsico,Inc. (PEP, Fortune 500) can compete with Anheuser-Busch for its sheer volume of advertisements. Pepsi will advertise its Pepsi Max and Doritos products.
Pepsi is continuing with its contest from last year, where members of the public can submit ads to be voted on by football fans. The winner of the Pepsi Max category and the winner of the Doritos category will each win $25,000 -- or a whopping $1 million if their spot tops USA Today's Super Bowl Ad Meter, which uses a live panel to rate the evening's ads.
The Super Bowl game is scheduled to be played in Texas and will be broadcast by Fox.