Obama's chief job promoter: Jeffrey Immelt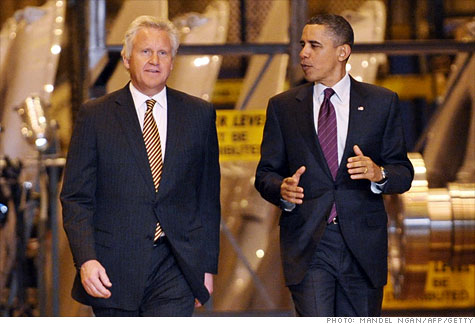 NEW YORK (CNN) -- When President Obama stresses his goal of job creation during his State of the Union address Tuesday night, one chief executive in particular will be under pressure: General Electric boss Jeffrey Immelt, who has signed on to lead the President's new Council on Jobs and Competitiveness.
Immelt's game plan for job growth is surprising -- he sees American manufacturing as a jobs generator. This viewpoint seems counterintuitive considering manufacturing in the United States has been in decline for decades, as companies have outsourced millions of jobs overseas to lower-cost producers.
Just before he led President Obama on a tour of GE's steam turbine and generator factory in Schenectady, New York, Immelt said during an exclusive interview with CNN Friday that American corporations should be exporting products -- not jobs -- overseas.
"We've got to invest and we've got to drive exports. Ninety-five percent of the world's population is outside the U.S.," Immelt said. "Ultimately to create manufacturing jobs, we've got to be innovating and we've got to be exporting."
The General Electric (GE, Fortune 500) chief acknowledged hiring gains may be gradual, as companies are operating more efficiently than ever. Meaning they can produce more with fewer employees, as the nation is still shrugging off the impact of a deep recession.
"There's no easy button to push to make the economy better, but every day we see more signs of life," Immelt said. In fact, during an investor conference call Friday morning -- after GE announced a 31% gain in fourth-quarter earnings -- the CEO told Wall Street analysts, "The economy is getting better every day."
Actions speak louder: GE's plant in Schenectady exports 90% of the turbines and generators it produces. Throughout the plant tour, President Obama saw components that would be heading to Kuwait, Saudi Arabia, Peru and India.
General Electric is providing steam and gas turbines to expand the Samalkot power plant in the state of Andhra Pradesh, India; a deal worth $750-million, that was announced last fall during the President's visit to India.
Export growth has contributed to GE (GE, Fortune 500) hiring about 10,000 new workers over the past year, including several thousand in manufacturing, Immelt said. He added that his company is able to compete globally in part, because labor comprises a relatively small percentage of the final cost of goods like turbines and generators.
"In the high-tech products we make it's mainly material content. Labor content is lower. So our guys can compete with anyone in the world," Immelt explained. "Our markets are export markets. That's going to drive manufacturing."
The caveat: American manufacturers who produce inexpensive products, where labor is the primary cost, don't have GE's competitive advantage. In other words, for all of President Obama's urging that U.S. companies add more workers -- don't expect American apparel, toy and household product companies to embark on a hiring binge.
Immelt is well aware of that competitive gap. He says U.S. companies must also innovate to create more jobs. Green energy is an industry where he sees tremendous growth potential, as does the President. However, Immelt says that Obama must be more aggressive in promoting energy efficient industries.
"We need to do more so we can be on a competitive footing in nuclear power and wind power with our competitors from Germany and China," he said.
There's also a cheerleading component to Immelt's new role. His message to his colleagues in corporate America: "For the CEO's that have cash, now's the time to invest. The economy's getting better. Let's go!"