Verizon backs off $30 unlimited data plan for iPhone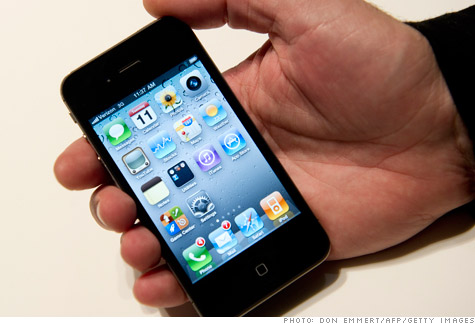 NEW YORK (CNNMoney) -- Take that, AT&T! Well, sort of.
Verizon (VZ, Fortune 500) poured some gas onto the iPhone fire Tuesday morning when it announced that it would offer the same $30 unlimited data plan for the iPhone as it offers for all of its other smartphones.
But by Tuesday afternoon, the company updated its announcement and backpedaled, saying it would only offer the unlimited iPhone data plan "for a limited time." Those who get in during the window will have unlimited data on their iPhones throughout the life of their Verizon contract.
The company declined to comment on how long the temporary unlimited offer would last. But it said that after the initial period, it will move to a metered system similar to the one used by AT&T (T, Fortune 500), which makes its smartphone customers pay for the amount of data they consume.
In June, AT&T slashed the starting prices of its data plans, but also added caps to them and eliminated its unlimited plan. AT&T customers now pay $15 a month for 250 megabytes of monthly data, or $25 for 2 gigabytes and an additional $10 for each gigabyte of monthly data usage that exceeds the allotted 2 GB limit.
So even though the cheapest available monthly iPhone voice plus data plan on AT&T is $54.99, compared to $69.99 on Verizon, customers that download 2.1 GB of data on their iPhones will pay $69.99 if they have Verizon -- compared to $74.99 on AT&T. For a limited time, anyway.
That's not so hard to do: If you want to watch Netflix (NFLX) on your iPhone using a mobile connection, 2 GB only gets you between six and 12 hours of streaming movies and TV shows, depending on the bit rate.
When it unveiled its iPhone earlier this month, Verizon Wireless declined to discuss the phone's data plan pricing. That fueled speculation that Verizon would go the way of AT&T and introduce a tiered plan, ditching the all-you-can-eat option.
Early Tuesday, the company seemed to recognize that would be a competitive mistake.
"I'm not going to shoot myself in the foot," Lowell McAdam, Verizon's chief operating officer, told the Wall Street Journal on Tuesday. He said that moving towards a tiered data plan would reduce the number of iPhone customers that would defect from rival AT&T.
But after initially backing his comments, the company pulled back. More details of Verizon's data-pricing plan will be announced later, a spokeswoman said.
AT&T has been pounded for years about its network struggles, which recently got it crowned "worst carrier" in America in a Consumer Reports survey. The company's 20 million iPhone customers are often its most vocally unhappy customers.
Still, only about 2.5 million customers are expected to defect to Verizon next month, according to numerous analyst estimates, thanks in large part to the high early termination costs that AT&T built into its contracts.
The iPhone will be available to Verizon customers for pre-sale Feb. 3 and it will appear in stores on Feb. 10.