Justin Bieber Super Bowl ad to plug Best Buy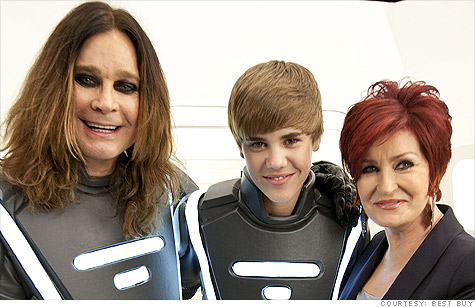 NEW YORK (CNNMoney) -- This year's Super Bowl broadcast will feature star-studded ads, with Justin Bieber and Ozzy Osbourne teaming up for a Best Buy spot, and with Kim Kardashian headlining an ad for Skechers.
Teen crooner Justin Bieber will star in Best Buy's (BBY, Fortune 500) first-ever Super Bowl ad on Feb. 6, when the Pittsburgh Steelers take on the Green Bay Packers for the biggest football game of the year.
Best Buy confirmed that he'll be co-starring with the venerable heavy metal front man and reality TV star Osbourne, but didn't provide details of how the two would be co-pitching electronics in the 30-second spot.
"We're delighted to have Justin and Ozzy help us tell the Best Buy story," said Drew Panayiotou, senior vice president of U.S. marketing at Best Buy. "We know people have high expectations for these ads, and Justin and Ozzy add a whole new dimension of fun."
Meanwhile, Skechers (SKX) has recruited reality TV star Kardashian for a 30-second spot in which she'll pitching Shape-ups. That's a type of shoe that "simulates walking in sand" to burn extra calories for people who don't have time to work out, according to Leonard Armato, president of Skechers Fitness Group.
"The reason Kim is a perfect brand fit for Skechers Shape-ups is that she is an extraordinarily huge celeb and her life is as busy as it gets," said Armato. "Between her reality show, her appearance and the fast-paced social scene that she travels in, she's time starved."
In the ad, Kardashian will "be breaking someone's heart in front of 100 million" viewers, Armato said.
Other Super Bowl ad celebrities include workout taskmaster Jillian Michaels, who will appear in a GoDaddy spot with race car driver Danica Patrick, and country singer Faith Hill, who will appear in a Teleflora spot.
Fox will be broadcasting the game, which is scheduled to be played in Arlington, Texas.