State pension + debt = big numbers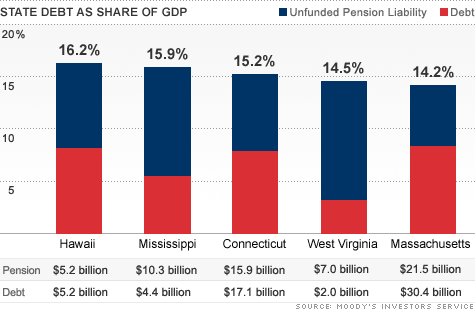 NEW YORK (CNNMoney) -- States' debt loads are high enough, but when you combine them with their pension obligations, the numbers are really eye-popping.
Hawaii's debt, for instance, is $5.2 billion. But so is its pension obligation. Combined, the dual obligations make up 16.2% of the state's economy, according to a report released Thursday by Moody's Investors Service. That's the nation's highest total liability as a share of the state's gross domestic product.
With state economies continuing to reel from the Great Recession, their pension and debt loads are garnering greater attention. States are having a hard enough time just paying for schools and social services, leaving many struggling to make big pension payments as well.
"These are expensive obligations," said Robert Kurtter, Moody's managing director for public finance. "Not crushing burdens, but they add to states' financial stress at a very difficult time."
Just how deep states are in the hole for their pension payments is a matter of debate. A Pew Center on the States report last year pegged the figure at $452 billion. Overall, state pension systems are 84% funded.
Other experts, however, have said the unfunded liability is much greater. Even Kurtter acknowledges that the pension hole is likely understated because of the rules governing states' accounting for retirement benefits.
While Moody's has always taken pension obligations into account when rating a state, this is the first time it has released a report showing the combined debt and pension liability levels in each one. The rating agency said it was important to show investors a state's total obligations, especially since pension liabilities have been growing more swiftly in recent years.
For instance, New York and California have high debt levels. But since they have well-funded pensions, they are not among the top states in terms of total liabilities as a share of the economy. That honor goes to Mississippi, Connecticut, West Virginia and Massachusetts, in addition to Hawaii. See the chart above for the full picture.
The new reporting method will not prompt any credit rating changes, Kurtter said.