Netflix shares rise 15% on strong profit and subscriber growth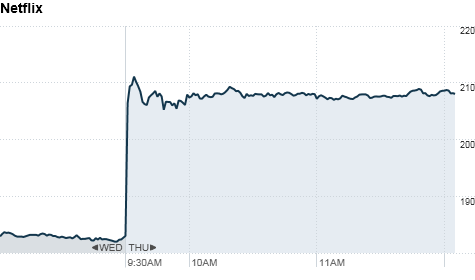 NEW YORK (CNNMoney) -- Shares of Netflix ended 15% higher Thursday, after its fourth-quarter earnings report showed strong growth in the company's subscriber base and sales.
After the closing bell Wednesday, Netflix reported earnings of 87 cents per share. That was a 55% jump over the year earlier, and it handily beat Wall Street estimates. Revenue grew 34% over the prior year, to $596 million.
Netflix (NFLX) said it now has 20 million subscribers, which is a 63% increase from the same period last year. The company now has more than 6% of the U.S. population subscribing to its service.
Netflix linked the increase to the popularity of its streaming video, and said the subscriber growth will allow it to invest more in that content.
"They did it again!" JPMorgan analyst Imran Khan wrote in a note to investors about the strong quarter.
Khan raised his price target to $224 by the end of the year, citing the strong subscriber growth and promising outlook for streaming video content on mobile devices.
Other analysts were more bearish. Youssef Squali of Jefferies & Co. said he "loved the service" but not the valuation.
He kept a "hold" rating on Netflix stock, citing aggressive long-term assumptions, concerns about international markets and the specter of competition from Amazon (AMZN, Fortune 500) and Google (GOOG, Fortune 500).
NFLX too high? Squali isn't the only one to voice concerns about Netflix's stock price. Shares have been on a tear since the company's public debut, and it's trading at more than 53 times its 2011 earnings estimates.
Bubble concerns intensified after Coinstar (CSTR), owner of the movie rental service Redbox, saw its stock plunge 25% after it lowered fourth-quarter guidance.
And Netflix shares fell last month after CFO Barry McCarthy left the company. But McCarthy appeared at a Barclays conference the day after his resignation, where he commented that he was "not sure you'd want to be short this quarter."
Short squeeze: McCarthy was referring to pundits like Whitney Tilson, the high-profile hedgie who wrote at Seeking Alpha about why Netflix was his fund's "largest bearish bet." Tilson cited concerns about smaller margins and slowing growth over the next year.
In a surprising move, Netflix CEO Reed Hastings posted a reply to Tilson just a few days later, titled "Cover your short position. Now."
The shorts would have done well to listen. But as of Jan. 14, more than 11.2 million Netflix shares were shorted -- about 22% of the stock's float. Thursday's run-up could have been exacerbated by those traders with short positions looking to cover themselves by actually buying the stock before it rises even higher.