Crude prices spike on Egypt worries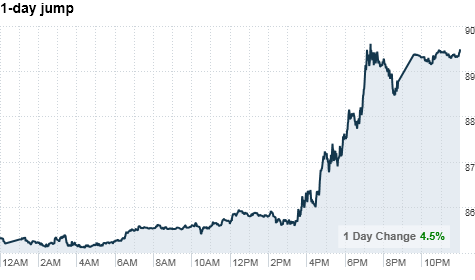 NEW YORK (CNNMoney) -- Crude oil prices spiked Friday as anti-government protests in Egypt sparked concerns over regional stability.
Prices settled just shy of $90 a barrel, for an increase of more than 4%.
On Friday, thousands of angry Egyptians defied a government curfew and stinging police tear gas to march on the streets demanding change. The government cracked down with thousands of riot and plainclothes police and the force of the army in armored personnel carriers.
Images of the unrest were broadcast around the world.
"It's all about Egypt," said Peter Beutel, president of Cameron Hanover, who added that the country produces enough oil to be counted as a meaningful player in the market, but consumes most of its own supply.
Egypt produces just under 700,000 barrels of oil per day, while oil-rich Saudi Arabia is churning out around 8.5 million barrels a day, according to the U.S. Energy Information Administration.
The region produces nearly a quarter of the world's oil supply, holds nearly all of its excess production capacity, and accounts for the majority of its proven oil reserves.
While not a significant exporter of oil, crude prices are traditionally very sensitive to potential supply disruptions, and Egypt is home to the Suez canal, a key shipping lane that connects the Red Sea with the Mediterranean.
An estimated 1.8 million barrels per day of crude oil and refined petroleum products flowed through the Suez Canal to the Mediterranean Sea in 2009, according to the U.S. Energy Information Administration.
The worries about Egypt come as crude prices, which largely tracked the equities market over the last year, spiked late last year.
"Oil has been following a series of stories that get gang tackled by the media," said Beutel, pointing to concerns over Egypt as the latest example.
As the theory goes, unrest in Egypt could destabilize the region, and potentially have a larger impact on crude prices. Meanwhile, if the crisis were to be contained, the market impact would be negligible.
Fadel Gheit, a senior analyst at Oppenheimer, downplayed fears of oil supply trouble in an interview with CNNMoney's Poppy Harlow. Egypt does not export crude, he noted, and OPEC has at least five million barrels a day of spare capacity.
But, he said, the psychological impact is another matter. If the Egyptian government fails, Gheit believes fears of a domino effect in the region would send crude prices through the roof.
Is that a likely scenario? It's all in the eye of the beholder, according to Beutel.
"For those predisposed to seeing the Middle East as an explosion-ready monolith, it looks like the fuse just got lit," he said.