Tensions rise on surging food prices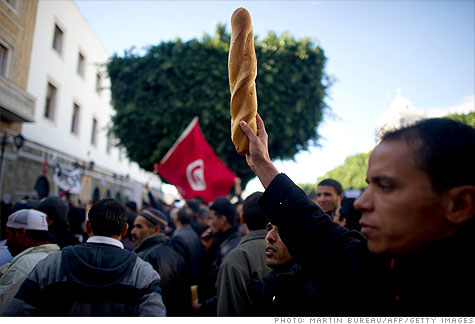 NEW YORK (CNNMoney) -- Food prices have been rising worldwide, as the cost of raw materials and agricultural products surge, contributing to political unrest around the globe.
In December, international food prices broke an all-time high when they rose 25% for the year, led by rising costs for staples like rice, wheat, and maize, the United Nations reported.
The sharp rise in food prices, in particular, has become "a source of political instability," New York University economist Nouriel Roubini, told CNNMoney's Poppy Harlow, at the World Economic Forum in Davos, Switzerland this week.
Roubini, nicknamed "Dr. Doom" for his famously bearish predictions, said spiking energy and food prices pose one of the greatest global threats -- especially to emerging market economies.
Why prices are rising: Bad weather in Australia and Russia over the summer severely diminished wheat crops, partially fueling the latest commodities surge.
Rising incomes in emerging markets like China and India also play a role, analysts at the Eurasia Group say. The growing middle class in those countries has prompted a shift from a grain-based diet to one consisting of more meat.
And a push toward biofuels has also led to rising demand for corn and sugar, pushing up commodity prices.
Where it's hitting: The pinch has been felt most in rapidly developing countries like China, India, and Russia, which still have large portions of their population living in poverty.
Food inflation in China was recently at 9.6%, while in India it surged a staggering 18%.
Countries that depend on imports and don't grow a lot of their own grains, like many Middle Eastern nations, are also feeling the pain from price pressures. The recent turmoil there, with outbreaks of riots and violent clashes with police and military forces, is partially related to surging food prices.
"What has happened in Tunisia, is happening right now in Egypt, but also riots in Morocco, Algeria and Pakistan, are related not only to high unemployment rates and to income and wealth inequality, but also to this very sharp rise in food and commodity prices," Roubini said.
In Egypt alone, food prices soared 17% -- in part because of the worldwide surge in commodities prices but also because of local supply imbalances.
How it's playing out: Many countries in North Africa, including Egypt, subsidize the costs of basic staples. Citizens there pay about 1 cent for a small serving of bread, said Hani Sabra, a research analyst with the Eurasia Group.
But that doesn't mean citizens there are completely insulated from price pressures.
About 40% of Egypt's citizens live off less than $2 a day, so any price increase hurts.
"There's a pretty expensive food subsidy system in Egypt," said Richard Fox, head of Middle East and Africa sovereign ratings at Fitch Ratings. "Having said that, definitely high inflation has been squeezing people's incomes."
Plus there's a thriving black market that often drives up the prices poor households are paying for foodstuffs, Sabra said.
Meanwhile the bigger problem lies not in just prices, but in the fact that when citizens are unhappy, they have little opportunity for political recourse.
"In the U.S. if you're unhappy about who you've deputized, you vote them out in the next election," Sabra said. "It doesn't work that way in Tunisia or Egypt."