Chinese economy still red hot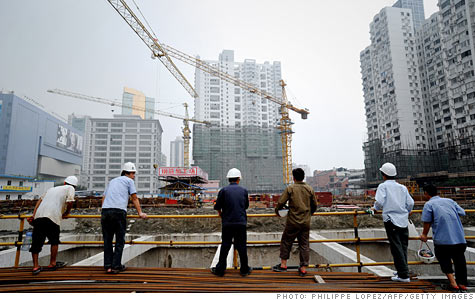 NEW YORK (CNNMoney) -- China's economy accelerated at the end of 2010, but kept inflation in check, showing the world's second largest economy is still outpacing its Western trading partners by leaps and bounds.
China's gross domestic product, the broadest measure of economic output, grew at an annual rate of 9.8% during the fourth quarter of 2010, up from 9.6% growth in the prior quarter, according to figures from the National Bureau of Statistics released Thursday.
That rate is considered very rapid compared to sluggish growth in Western economies. The U.S. economy grew at a snail's pace of 2.6% in the third quarter.
While China's rapid growth has sparked fears that its economy may overheat, a rate around 10% is not unusual in the country's history over the last 30 years. And the latest inflation data, also released Thursday, doesn't point to out of control prices either, economists say.
"Growth remains very robust in China," said Jay Bryson, global economist with Wells Fargo. "But I don't know if the economy is overheating. When you have non-food price inflation of 2.2%, that's pretty low in the grand scheme of things."
Explosive retail sales helped drive economic growth, surging 19.1% in December, after increasing 18.8% the month before.
"This helps confirm our long-held view that China is starting to experience a consumption boom, which should last for many years," Nomura economists Chi Sun and Tomo Kinoshita said in a research note.
The Chinese government also released its latest inflation data on Thursday, showing that prices rose at a slower pace in December.
China's Consumer Price Index rose 4.6% in December, after rising 5.1% the month before, according to government data. Food prices rose at an annual pace of 9.6%, down significantly from a 11.7% pace in November.
The Chinese government had recently taken steps to curb rapid inflation in the country, as surging food prices there have hurt the purchasing power of its citizens.
But at the same time, wages are still rapidly growing and fueling inflation to spread to broader areas. Non-food inflation was 2.1% in December, up from 1.9% the month before.
"High CPI inflation expectations and strong growth should encourage authorities to accelerate their tightening of monetary policy in coming months," Sun and Kinoshita said.
The latest data comes amid an important meeting between President Obama and Chinese President Hu Jintao at the White House.
In a press conference Wednesday, Obama said it is important to remember that while China's economy is rising rapidly, the U.S. economy is still three times its size, with a mere quarter of the population.
He also tried to calm fears that the U.S. is trying to limit China's growth.
"We welcome China's rise," he said. "We just want to make sure that rise occurs in a way that reinforces international norms and international rules, and enhances security and peace, as opposed to it being a source of conflict either in the region or around the world."
American leaders, including Obama, are pushing for a stronger trading relationship with China, as a way to boost the U.S. economy and create more jobs at home.