Beetle recall: V.W.T.F.?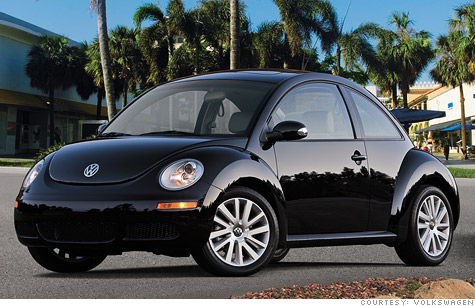 NEW YORK (CNNMoney) -- Volkswagen is recalling about 20 new Beetles -- and replacing them with identical cars.
At issue is when the cars were made, and whether or not they complied with a particular crash-test regulation.
As of Sept. 1, all cars sold in the U.S. had to be crash tested at 35 miles per hour. The 20 Beetles in question were built between Sept. 1 and Sept. 22, but they were only subject to crash tests at 30 miles per hour, adhering to the previous regulation.
That means legally they must be taken off the road, according to Sheriece Matias, a Volkswagen spokeswoman.
But the dealers aren't fixing the VW's, since there isn't actually anything to fix. And they aren't giving affected Beetle owners safer cars that have been crash tested at a higher speed.
Customers will be given cars that were also tested at only 30 miles per hour. The difference: These cars were built before Sept. 1st, when a 30 mph test was OK.
The cars aren't any different, but they're "compliant" because the rules were different at the time they were assembled.
The recall covers about 27 vehicles, 20 of which are out on the road, said Matias. The cars had been pulled out of production earlier in the year, and the final assembly occurred after the rule went into effect, hence the regulatory mix-up.
"We're offering owners a buy back or a Beetle that was built a few days before the rule went into effect," she said. "They're basically getting a new car."