New Fiat 500: It's more fun (and fitting) to call it a Cinquecento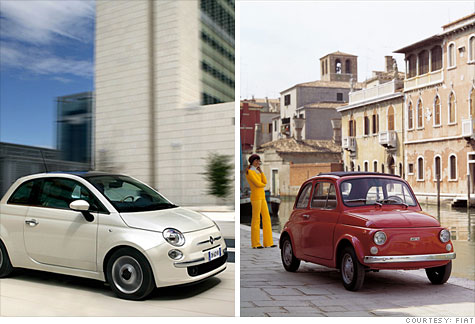 FORTUNE -- The buyer of a small car has lots of choices these days, from Toyota's Yaris to Ford's (F, Fortune 500) Fiesta. Why would anyone in the U.S. bother with the Fiat 500, a largely unknown brand?
The answer: Americans love trying new car brands and models, especially if they appeal to the emotions or exude some style, like Mini. Mini -- the car to which the 500 has been compared the most -- is BMW's take on the English original from the 1950s. The 500 is Fiat's version of the Italian original 1950s, tweaked for U.S. regulations and road conditions.
The 500, if it succeeds in the U.S., will probably do so on the strength of its design. Roberto Giolito, Fiat's head designer calls it ``the automotive equivalent of the iPod. Sleek, simple, functional, user-friendly and inspired.''
Yes, sleek and functional. Italian as well, which implies a bit of elegance and flair, such as you'd expect from a pair of Gucci loafers or a Versace blouse. It is available in fourteen colors and, like Mini, has many cosmetic personalization options, such as checkered roof decal or a racing stripe.
The car will start at $15,500 and range up to $23,000 with every possible option, including automatic transmission, leather and navigation. The 500 is a car parents might buy for a recent college graduate or a spouse's gift that occupies the third space in the garage. Although advertised as a four-seater, the rear is too cramped to be of much use: It's a vehicle for two, better still -- given the car's Italian heritage -- if they're a couple.
Let's get in the spirit by tossing away "five hundred" and switching to the vehicle's exotic-sounding European name: Cinquecento. First introduced in 1957 as a rear-wheel-drive minicar, Fiat since 2007 has sold more than half a million of the latest version worldwide.
Cinquecento's five-speed manual transmission will be a turn-off to many American prospects so Fiat wisely contracted with the Japanese transmission manufacturer Aisin to offer a six-speed automatic as well. The engine is a 1.4-liter four cylinder with the company's multi-air induction system, which optimizes power and saves fuel, Fiat says. (And in case you were wondering, the car doesn't actually come from Italy but from a factory in Toluca, Mexico owned by Fiat's 20-percent owned affiliate, Chrysler Corp.)
To get a feel for how the car drives, I took a ride through the mountains east of San Diego with my pal Jorge Koechlin, the former Peruvian race-car driver. I drove cautiously, watching traffic with care, keeping an eye on the navigation system and changing gears cautiously so as not to grind them or ride the clutch and provoke Jorge's disdain.
He, by contrast, mashed the accelerator and did his best to recreate bygone days of racing glory. Up hills, down hills, around curves. (I whispered a prayer for the Almighty's protection.) Cinquecento's front-wheel-drive performance hardly could be called quick, yet the vehicle's balance, agility and handling brought an approving smile to Jorge's face.
The new model isn't destined to sell in large numbers or to be a big moneymaker for Chrysler/Fiat. If popular, the car could pave the way for more Fiat models eventually -- and the basic architecture could show up, with different exterior design and interior appointments, as a Dodge small car.
Chrysler, which less than two years ago had to be reorganized under bankruptcy, has formed a most promising collaboration with Fiat, if this first joint project is any insight into what comes next.