California Gov. Jerry Brown pushes tax hikes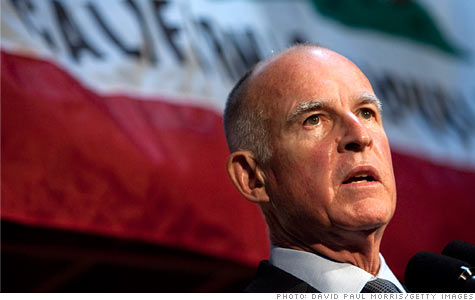 NEW YORK (CNNMoney) -- Californians should decide whether they want to pay $12 billion more in taxes to help plug the state's massive budget shortfall, Gov. Jerry Brown said on Monday.
In his State of the State address, Brown urged legislators to put his plan to extend income and sales tax hikes on the ballot in a special election in June. If they don't, the governor said the state will see even harsher spending cuts than the $12.5 billion he is proposing.
"At this moment of extreme difficulty, it behooves us to turn to the people and get a clear mandate on how we should proceed -- either to extend the taxes, as I fervently believe, or to cut deeply into the programs from which, under federal law, we can still extract the sums required," said Brown

Brown, who just started his third term after serving as California's governor in the 1970s and 1980s, has laid out a plan to solve the state's $25.4 billion budget shortfall that hinges on voters approving an extension of tax hikes first passed in 2009 to address an earlier shortfall.

The tax proposals include renewing a quarter-percentage point increase in personal income tax rates, which expired at the end of 2010, and maintaining a 1 percentage point bump in the sales tax, which lapses at the end of June. The higher rates would remain in effect for five years.
For Brown's plan to work, two-thirds of lawmakers would have to agree to put the tax measure on the ballot. And they would have to act by March.

The governor said it would be "unconscionable" to deny voters the choice between raising taxes or chopping "another $12 billion out of schools, public safety, our universities and our system of caring for the most vulnerable."
Getting lawmakers' support, however, won't be easy, especially since the plan has already aroused much opposition from many quarters. Last year, the state legislature wrangled over the budget with then-Gov. Arnold Schwarzenegger, a Republican, until October.
In Monday's address, Brown, a Democrat, urged tax-adverse Republicans to support his plan, jokingly saying he'd like to see more GOP lawmakers clapping. He also said he was open to alternatives.
Getting the tax extension on the ballot is only the first step. Brown must then convince residents to approve it. That could be a high hurdle in the Golden State, where the people in November voted down a motor vehicle surcharge to fund state parks and made it harder for legislators to raise fees.
Voters, however, may be willing to help the state avoid a fiscal disaster this time. Some 53% of respondents to a Public Policy Institute of California poll released last week said they would support the tax extension.
Even if the measure is approved, Brown's budget still calls for slashing spending by $12.5 billion.
The cuts would fall heavily on the low-income and the needy. The budget strips $1.7 billion from Medi-Cal, the state's Medicaid program, and $1.5 billion from its welfare-to-work initiative.
Also, the state's college systems -- the University of California and California State University -- would each lose $500 million.
Brown has already taken several small steps to bring down the cost of running the state. Last week, he directed all departments to immediately halt new car purchases and turn in taxpayer-funded cars not essential to state business. Earlier, he ordered agencies to turn in 48,000 government-paid cell phones.
The cuts could be even deeper if voters don't approve the tax increases, Brown said. Schools, universities, prisons, local public safety and health programs would suffer.
"Given the unique nature of the crisis and the serious impact our decisions will have on millions of Californians, whether it's more cuts or extend taxes, the voters deserve to be heard," he said.

Brown's speech was not all gloom-and-doom. He praised California's strengths and said its economy is on the mend. But balancing the budget is a crucial step toward recovery.

"Although our state's economy is starting to recover, we'll not create the jobs we need unless we put our own financial house in order," he said.
Has your income fallen over the last few years? Did you take a pay cut, or have to find a new job that pays less than your old one? Tell us about it and you could be included in an upcoming story on CNNMoney. For the CNNMoney Comment Policy, click here.