Egypt oil threat may be overblown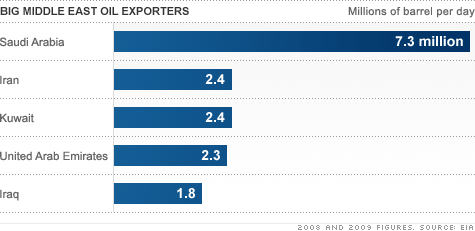 NEW YORK (CNNMoney) -- The Egyptian crisis has sent oil prices to a 2-year high above $92 a barrel, up 5.5% in two trading sessions, due to concern the turmoil could spread to Middle East nations that are bigger crude producers.
But some traders believe the run-up is an overreaction, with the major Gulf oil states protected from such conflict.
The price retreated 81 cents to $91.38 a barrel in Tuesday trading.
Egypt is not an oil exporter, and only about 1.8 million barrels a day move through the Suez Canal, which it controls. That's just 2% of the world's oil supply.
Another two million barrels a day can go through the Sumed pipeline, which also runs through Egypt, connecting the Red Sea to the Mediterranean. The pipeline is used by ships too big to pass through the Suez.
So far, both the pipeline and the canal are operating. But traders fear workers may not be able to get to their jobs due to the violence, which would disrupt supplies.
That would be a pain for oil refiners, and prices would probably rise. But the oil wouldn't be lost. It could ultimately go around Africa. Analysts say there are more than enough inventories to cover a brief shortage while the crude was in route.
What really has traders nervous -- and is probably the main culprit behind the oil price spikes Friday and Monday -- is that the revolt in Egypt will spread to other Middle Eastern countries.
"I do believe we are going to see a spread of this popular uprising across the Middle East," said Fadel Gheit, a senior energy analyst at Oppenheimer. "Traders are rightfully concerned."
The Middle East produces over 20 million barrels of oil day, nearly a quarter of the world's supply.
Most of this crude -- over 7 million barrels a day -- is exported from Saudi Arabia.
Most Saudi oil loaded at two massive tanker terminals on the Persian Gulf -- Ras Tanura and Ras al-Ju'aymah.
Also, a pipeline runs across the country to the Red Sea. That's used more as a back up in case of trouble in the Gulf and seldom operates at full capacity.
Most Saudi exports are bound for Asia. Only about 1 million barrels a day come to the United States, about 9% of the country's total imports, according to the Energy Information Agency.
In fact, 75% of the oil that leaves the Persian Gulf via tanker ends up in Asia --mostly Japan, South Korea and China.
Other big Middle East producers include Iran, which exports about 2.4 million barrels per day, mostly from its tanker facility on Kharg Island in the Persian Gulf.
Kuwait exports a similar amount, as does the United Arab Emirates, both by ship.
Iraq brings up the rear in terms of big Gulf exporters. Most of that country's 1.8 million barrels of crude leave on tankers from the Basra Oil Terminal in southern Iraq on the Persian Gulf.
Iraq also operates a pipeline that runs from the northern city of Kirkurk, across Turkey, terminating at the Turkish Mediterranean city of Ceyhan.
The fear isn't so much ideological as it is logistical. A revolution in any of these countries wouldn't permanently cut off the flow of oil. Almost any incoming government, be it socialist, capitalist or Islamist, is going to want oil revenue.
The concern is more that workers won't be able to get to their jobs for an extended period of time if social unrest breaks out.
Paul Tossetti, an oil analyst at energy consultants PFC Energy, believes the situation in Egypt is much different than the situation in the Gulf countries.
Greg Priddy, an oil analyst at the Eurasia Group, a political risk consultancy, agrees.
The Gulf states are much richer than Egypt, said Priddy, and are thus able to offer more jobs and benefits to keep their citizens happy.
Plus, the oil facilities are well guarded, away from population centers, and don't need many workers to operate.
"The market reaction to this is probably overblown," he said. "Saudi Aramco is not going to shut down because of demonstrations."
Plus, there are no signs that unrest like Egypt's is spreading to the Gulf's big oil exporting states.
Yet as Oppenheimer's Gheit noted, things aren't always what they seem.
"Two weeks ago everyone thought the Mubarak regime was one of the most stable in the world," he said.