Egypt shows that risk is alive and well
NEW YORK (CNNMoney) -- Was Egypt only a one-day story for Wall Street?

Stocks took a somewhat nasty tumble Friday as protests in Cairo spooked traders. Investors worried that more turmoil in the Arab world could create major supply disruptions for oil.
Unsurprisingly, oil prices shot higher as stocks fell and Wall Street's so-called fear gauge, the CBOE Volatility Index, or VIX (VIX) for short, skyrocketed nearly 25%.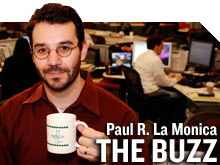 But so far Monday, it looks like traders are giving a collective sigh and going back to focusing on more mundane things like earnings and economic data.
The Dow, S&P 500 and Nasdaq were slightly higher in early afternoon trading while the VIX fell more than 4%.
Heck, even an exchange-traded fund made up of Egyptian companies, the Market Vectors Egypt Index ETF (EGPT), bounced back sharply Monday. The ETF plunged nearly 14% last week and was halted through most of the morning but surged nearly 7% in early afternoon trading.
Is the temptation to treat Egypt as last week's news a mistake?
So far, it looks like the worst-case scenario for oil -- something that would slow or block the shipment of oil through the Suez Canal -- is not being realized. For that reason, investors do not need to panic.
"Egypt does not have a major role in terms of the world economy. The concern is around the Suez Canal and there doesn't seem to be a risk to that just yet," said Andrew Fitzpatrick, director of investment with Hinsdale Associates, a money manager in Hinsdale, Ill.
That may be true. But it's not as if Egypt is the only geopolitical ticking time bomb that could rattle investors.
Keep in mind that the unrest in Egypt follows upheaval in Tunisia. Rising food prices in emerging markets across the globe could cause further conflicts.
Some worry about the possibility of more protests in other nations in the Middle East and Northern Africa, such as Morocco, Yemen, Jordan, Algeria and Sudan. (It may not be as catchy as the PIIGS of Europe but I'm laying claim to the acronym of MAJESTY to describe this group.)
It goes without saying that if Tunisia and Egypt are just the first dominos to fall, that's problematic. And while unrest in the Middle East is hardly a novel concept, the reminder of just how volatile this oil-rich corner of the world can be is clearly unsettling.
"This situation is not over. This could all be resolved calmly or it could evolve into significant Middle East conflict," said Jason Pride, director of investment strategy at Glenmede, a money manager in Philadelphia. "But this is a risk we've been living with for 25 to 30 years."
Nonetheless, Pride said he is not changing his firm's investments as a result of the chaos in Egypt. He said he's expecting cooler heads to eventually prevail.
Even if that's the case, the problems in Egypt may force investors to take a closer look at the markets in the U.S. and wonder if the rally finally needs a significant breather.
The S&P 500 has nearly doubled from the bear market (and demonic-seeming) lows of 666.79 in March 2009. So a correction may be needed.
"Risk becomes relevant again," said Rafael Resendes, co-manager of the Toreador Large Cap Fund in Fresno, Calif. "The market is now actively looking for reasons to sell. There is a heightened ability for news to be interpreted in a negative fashion."
Resendes said that the days of easy comparisons for companies are gone. It was one thing for companies to report improving earnings in late 2009 and through 2010 since market conditions were so bleak in late 2008 and early 2009. Now, it will be more challenging to build on the earnings momentum.
Fitzpatrick conceded that the market may need to take a breather but added he'd be buying on any pullbacks.
"The market is a little overbought right now. So a short-term pause is not too unexpected," he said.
David Joy, chief market strategist with Columbia Management in Boston, agreed that a market dip would be healthy and added that investors should not be too complacent about the problems in Egypt.
But he said that unless the situation escalates into a true crisis throughout the region, the improving fundamentals in the U.S. should keep the market rally going.
"We may be due for a correction but it should be a shallow and temporary one. We've had good news to justify the move," he said. "Economic growth forecasts are being revised higher and earnings comparisons should be getting tougher. It's a natural outcome of where we are in the recovery."
-- The opinions expressed in this commentary are solely those of Paul R. La Monica. Other than Time Warner, the parent of CNNMoney, and Abbott Laboratories, La Monica does not own positions in any individual stocks.