Google exec missing in Egypt amid protests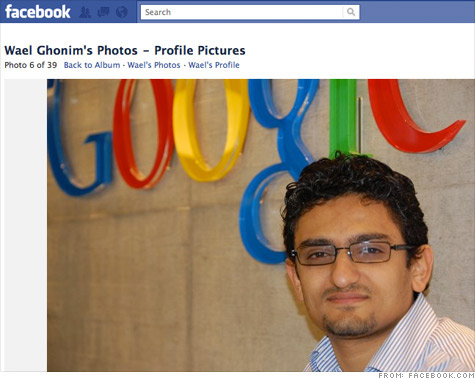 NEW YORK (CNNMoney) -- Google executive Wael Ghonim is missing in Egypt amid widespread protests. A friend said Monday that Ghonim hasn't made contact with anyone since Friday morning.
Habib Haddad, a tech entrepreneur who has known Ghonim for four years, said concern was "growing bigger and bigger by the day."
Ghonim, Google's head of marketing for Middle East and North Africa, had traveled to Cairo for a conference, Haddad said. But on January 25, protests broke out in the streets over the rule of Egyptian President Hosni Mubarak.
Haddad said Ghonim wasn't particularly inclined politically. But Ghonim had been tweeting about the increasingly dire situation in Egypt.
His last tweet on Thursday: "Pray for #Egypt. Very worried as it seems that government is planning a war crime tomorrow against people. We are all ready to die #Jan25"
Haddad spoke with Ghonim late Thursday via email and BlackBerry Messenger. On Friday, Haddad said, Ghonim contacted his wife and his Egypt-based brother.
By Sunday morning, Haddad said, Ghonim's wife was starting to panic -- both she and a Google employee sent emails to friends and acquaintances.
Ghonim's family had urged him to stay away from the protests, Haddad said.
"He's a very smart person -- he would do whatever he could to reach out, and he wouldn't put himself in a stupid situation," Haddad said.
Google (GOOG, Fortune 500) confirmed Ghonim's title with CNN's Etan Horowitz, but it declined to comment on the situation: "We take the security of our employees very seriously, so I'm sure you'll understand that we can't comment on individual employees."