Intel cuts profit margin outlook on chip error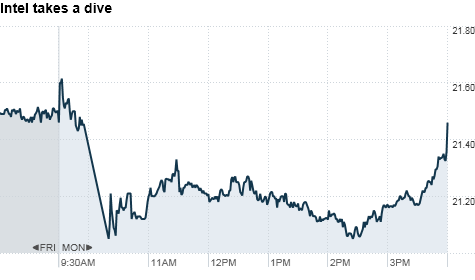 NEW YORK (CNNMoney) -- Intel has discovered an issue with a newly released support chip, and fixing the problem will cut revenue by $300 million in the first quarter.
The company added that its gross profit margins for first quarter of 2011 and the full year will also take a hit. Shares fell on the news.
In a press release Monday morning, Intel said it had found that the ports within its 6 Series support chip (code-named Cougar Point) "may degrade over time." The issue could affect the performance or functionality of devices linked to those ports, like hard disk drives and DVD-drives.
Intel (INTC, Fortune 500) warned it expects first-quarter revenue to be reduced by $300 million as a result -- but added that full-year revenue "is not expected to be materially affected."
Intel stock was initially halted on the news, and shares were down about 1% in the late morning after trading resumed -- but they ended flat at $21.46. Meanwhile, shares of rival chipmaker Advanced Micro Devices (AMD, Fortune 500) spiked 4.5%.
The Intel 6 Series chipset is used in computers with Intel's new second-generation core processors, code-named Sandy Bridge -- which started shipping January 9.
Intel said it has stopped shipping the affected chip, and it has begun manufacturing a new version that will fix the issue. The company added that no other products, including the Sandy Bridge microprocessor, are affected by this issue.
In a research note, FBR Capital Markets analyst Craig Berger agreed with Intel that "these issues are relatively immaterial." The firm's full-year earnings per share estimates "should not change too materially," Berger wrote. FBR maintained its "market perform" rating on Intel.
Past and future margins take a cut: The company expects to spend $700 million to fix the problem. Because some of the affected chipsets were manufactured in the fourth quarter of 2010, Intel will take a charge against the cost of goods sold.
That will cut Intel's fourth-quarter gross margin percentage to about 63.5%, from the previously reported 67.5%. Intel had posted its best fourth quarter in company history.
Intel will also take a charge in the first quarter of 2011, so it cut its margin guidance for the current quarter and for the full year as a result.
Infineon acquisition cushions the blow: Despite the chipset error, Intel raised its sales guidance for the first quarter and full year. That's due to its recently announced acquisition of Infineon Technologies' wireless solutions business.
Including the chipset problem and the Infineon purchase, Intel now expects first-quarter revenue of $11.7 billion -- compared with the previous $11.5 billion guidance.
Intel also said it expects its purchase of anti-virus software company McAfee (MFE) to close by the end of the first quarter.
Full-year growth percentage is expected to be in the "mid to high teens," compared with the previous guidance of 10%.