Has the Ford stock rally run out of gas?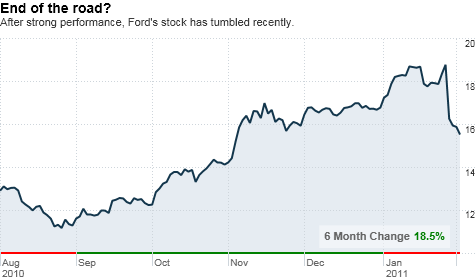 NEW YORK (CNNMoney) -- Ford Motor has been very popular with both American car buyers and investors for the last two years. But over the past week, investors' love affair with the iconic automaker seems to have cooled.
Shares of Ford (F, Fortune 500), which rose 88% from the start of 2010 through last Thursday, plunged more than 17% since the company reported a fourth-quarter earnings miss early Friday.
Even strong U.S. sales reported for January couldn't help Ford stock regain its footing. Shares were flat in trading Tuesday after the report, and down again in Wednesday trading.
Rival automaker General Motors (GM) -- which only returned to the market with an initial public offering in November -- has already passed Ford in market value because of the recent slide.
After Ford reported earnings of $1.91 per share for 2010 on Friday, the consensus 2011 earnings forecast tumbled from $2.14 a share down to $1.93 a share. And earnings are forecasted to remain flat through 2012.
But even before the miss, some analysts had started to question whether Ford's share price was getting close to topping out.
Efraim Levy, auto equity analyst for Standard & Poor's, cut his recommendation from "buy" to "hold" in November, even though he raised his price target for shares to $18 and is still forecasting 2011 earnings of $2.13 a share.
"The stock has had a good run, but gains won't be as easy to come by," he said. "The big challenge is that increased competition is coming from all over the place."
Ford's solid product lineup was a factor that allowed it to capitalize on buyers' doubts about GM and Chrysler Group during their bankruptcies, and the recall problems at Toyota Motor (TM).
But those rivals are finally putting some of their woes behind them. And Hyundai Motor, which operates the Hyundai and Kia brands in the U.S. market, continues to make strong market share gains as well.
And Ford is still adjusting to some of its own issues, like pulling the plug on its Mercury brand last fall, and the trouble it's had moving Mercury buyers into the luxury Lincoln brand. In fact, Lincoln has suffered continued share losses since Mercury was shut down.
Analysts say Lincoln is now one of the weakest luxury brands on the market.
"With their luxury arm's lackluster performance it's all riding on the Ford brand," said Jessica Caldwell, senior analyst at Edmunds.com.
Ford is also struggling to catch up with global competition in the Chinese auto market, which in 2009 became the largest market for auto sales and is expected to continue to grow at double-digit rates.
And while Ford managed to avoid bankruptcy during the worst of the crisis, the company is left with far more debt than its leaner rivals.
Adding to its obligations, the United Auto Workers union is likely to press Ford for significant contract improvements this fall to make up for concessions granted in the 2007 contract.
But some analysts remain bullish on Ford shares, despite the recent problems.
"We think it is too early to shift gears on Ford as business fundamentals are still improving significantly, driven by still-strong product," wrote Goldman Sachs analyst Patrick Archambault in a note Friday in which he called the sell-off "overdone."
He reaffirmed Goldman's "buy" recommendation on the stock.
"We believe Ford's ... growth prospects are not fully valued by the shares," he wrote.
But Ford still faces a number of headwinds. Even if the company continues to post improving auto sales as U.S. buyers return to showrooms in greater numbers this year as expected, Ford could find itself hard-pressed to get its stock back in gear.