GM surpasses Ford in market value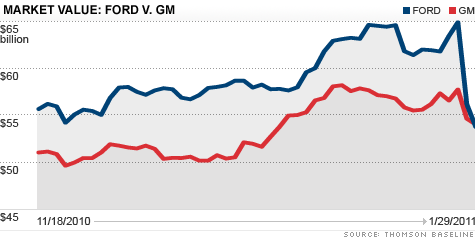 NEW YORK (CNNMoney) -- General Motors briefly passed rival Ford Motor in market value Monday, less than three months after GM's initial public offering.
Ford's stock plunged sharply Friday after it announced fourth quarter results that fell far short of analysts' forecasts, its first such miss in two years. Ford (F, Fortune 500) shares tumbled 13% and were off another 4% in afternoon trading Monday, before pulling back a bit.

While GM (GM) shares also lost ground both Friday and Monday, it suffered more modest declines, allowing its market value of $54.1 billion to top Ford's value of $54.0 billion.
Even with its earnings miss, Ford's full-year profit was likely well ahead of GM's profit, according to forecasts. GM is due to report results in February. But GM does have other advantages over its rival.
First, by going through a bankruptcy process with the help of a government bailout in 2009, GM's balance sheet is in much stronger shape than that of Ford.
Second, GM has stronger sales overseas. GM's Chinese joint ventures give it the No. 1 position in that market, which has been the largest market for new car purchases for the last two years. And China's importance is likely to grow. Ford is late to the game in China and is scrambling to try to catch up with other western automakers there.
Finally, GM's U.S. sales still outpace those of Ford, even as Ford gains market share.
But avoiding bankruptcy and gaining market share helped make Ford the investor favorite.
And even with the recent decline in stock price, its shares are up more than 50% since the start of 2010, and it's worth more than ten times its value at the low-point of early 2009, when bankruptcy troubles hung over the industry.