Interest on national debt: 'Skyrocketing' costs ahead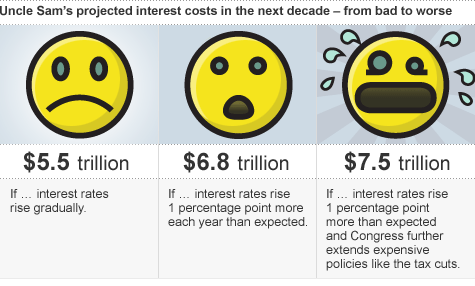 NEW YORK (CNNMoney) -- Interest payments on the national debt could total $5.5 trillion over the next decade, or about 79% of the new debt estimated to accrue between 2012 and 2021.
And that's the optimistic scenario.
"Interest payments on the debt are poised to skyrocket over the next decade," the nonpartisan Congressional Budget Office wrote in its most recent budget outlook report.
The CBO -- and everyone else for that matter -- assumes that interest rates will rise. Just how quickly is the question. The CBO assumes a gradual rise, and projects that the 10-year Treasury rate won't hit 5% before 2015, up from an average of 3.2% today.
But if interest rates end up being 1 percentage point higher than the CBO assumes over each of the next 10 years, interest costs could go up by another $1.3 trillion, putting total costs at $6.8 trillion.
What could push rates up sooner than the CBO anticipates? Among the possibilities:
-- The lack of a medium- or long-term debt reduction plan by 2013, said Jim Vogel, head of interest rate strategies at FTN Financial.
-- Greater-than-expected inflation, three leading economists told the Senate Budget Committee on Tuesday.
Of course, it's not just rising rates that could push up interest costs -- it's also the accumulation of more debt than expected.
For example, the future extension of some pricey policies on the books today, such as the Bush (now Obama) tax cuts or measures protecting taxpayers from having to pay the Alternative Minimum Tax. Such policy extensions on top of faster-than-expected rate increases could bump up interest costs to $7.5 trillion.
Here's what it means if interest costs range between $5.5 trillion and $7.5 trillion: Between 14 cents and 19 cents of every federal tax dollar collected over the next decade would be eaten up by interest.
That's 14 cents to 19 cents of every tax dollar that will not be available to pay for government services and programs, or to aid Americans and states in the event of an economic downturn or natural disaster.
Looked at another way, the cost of interest payments in 2021 alone would trump what the government is expected to spend on defense, Medicare or all of the non-defense discretionary programs.
Consider, too, some of the debt-reduction proposals that have been put forth so far by those in Congress and by the White House, the Concord Coalition notes in its analysis of CBO's estimates.
"The president has proposed $478 billion in discretionary spending cuts and the Republican Study Committee has proposed $2.5 trillion in savings, but neither proposal would come close to even paying the interest on the debt."