Consumers aren't snowed in
NEW YORK (CNNMoney) -- So much for bad weather keeping consumers out of the shopping malls.
Many retailers reported robust same-store sales growth for January, despite the fact that much of the country was hit hard by a nasty, unrelenting "wintry mix" throughout the month.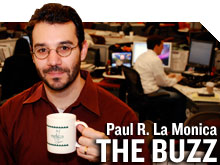 According to Thomson Reuters, same-store sales at 28 top retailers rose 4.2% in January. Analysts were expecting growth of just 2.7%.
This comes as a bit of a surprise since store owners often come up with the most comical meteorological and calendrical reasons to justify poor results -- Easter came early! It was too hot during August!
So retailers were deprived of their chance to do their best Milli Vanilli and blame bad sales on the freezing rain ... or snow, ice, sleet and slush.
What's more, the strength was across the board.
Sales at The Buckle (BKE), which focuses on young men and women, were up 6% compared to a year ago. Zumiez (ZUMZ), which primarily courts teens, reported a 15% jump. Sales at Victoria's Secret owner Limited Brands (LTD, Fortune 500) surged 24%.
Warehouse club Costco's (COST, Fortune 500) sales rose 9% and high-end retailer Nordstrom's (JWN, Fortune 500) sales were up 4.8%.
You get the picture. It wasn't a case of discounters thriving and department stores and luxury retailers flopping or tween apparel doing well while clothing stores for grown-ups performed poorly.
The fact that there really isn't a trend is good news. It seems to indicate that consumers were out in full force last month, blizzards be damned.
Sure, there are still a lot of doubts about the economic recovery. Some skeptics even refuse to acknowledge that one is even taking place. But ask yourself this: Would consumers really be hitting the stores again if they were truly scared that things were going to once again take a turn for the worse?
"What's happening with consumer spending is a byproduct of expectations of how well the economy will be going forward," said Oscar Gonzalez, economist with Manulife Asset Management in Boston.
"There has been progress with jobs growth and the unemployment rate coming down. The stock market has also regained a lot of the value it lost," he added.
That is critical. If consumers feel more confident -- and actually back that up with their wallets as opposed to just telling someone in a survey that they feel more confident -- that so-called wealth effect could go a long way toward getting the economy back on track.
A healthy consumer is key to a strong economy. Consumer spending makes up the lion's share of the nation's gross domestic product.
So it stands to reason that increased demand for goods and services might finally spur some still-nervous big companies to use more of the cash they are hoarding to start hiring a lot more workers.
The bad news though is that you do have to wonder if people are once again beginning to spend beyond their means.
The government reported Monday that personal spending rose 0.7% in December. But personal income was up just 0.4%. What's more, the savings rate fell to 5.3%. It was at 6% as recently as last August.
If this trend continues, it could become worrisome. Nobody wants to live through another credit binge-induced downturn. But consumers do appear to be growing wary of thrift and frugality.
According to a recent poll by the National Foundation for Credit Counseling, 66% of consumers surveyed said that they need to continue saving more and spending less but that they are "tired of pinching pennies."
Only 21% indicated that they intended to maintain the lifestyle changes they made to their financial habits during the Great Recession.
Still, it may be tough for consumers to go too crazy. According to the most recent survey of bank senior loan officers by the Federal Reserve, demand for mortgages has weakened and banks aren't all that willing to approve tons of new consumer loans.
"People don't appear to be overextended. With banks tightening standards for credit cards and mortgages, it's harder to take on debt," said Kurt Karl, chief U.S. economist with Swiss Re in New York.
That's encouraging. But the issue may not be whether consumers max out their credit cards. It really all does come back to jobs.
The government will report figures for January employment on Friday. A group of leading economists surveyed by CNNMoney are forecasting an increase in payrolls of 149,000 jobs.
Jeffrey Cleveland, senior economist with Payden & Rygel in Los Angeles, said this growth must not only continue but probably accelerate. Otherwise, consumers will pull back.
He points out that personal income minus transfer payments, a figure that includes Social Security payments, unemployment claims and other government disbursements, remains below its pre-recession peak.
"People are spending like it is 2006 again. Can that continue throughout 2011?," Cleveland asked. "The job market has to pick up. Unless there are more employment and wage gains, then the current rate of consumer spending may not be sustainable."
-- The opinions expressed in this commentary are solely those of Paul R. La Monica. Other than Time Warner, the parent of CNNMoney, and Abbott Laboratories, La Monica does not own positions in any individual stocks.