Super Bowl ad message: Recession's over, start spending!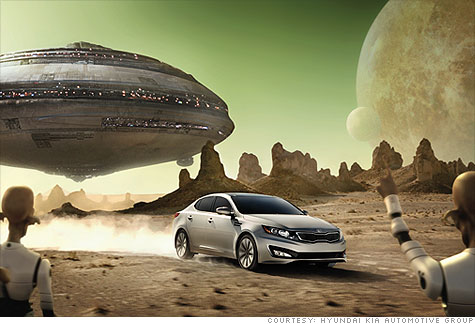 NEW YORK (CNNMoney) -- The recession is officially over -- or at least, that's the message from Super Bowl advertisers this year.
Ad experts say that the line-up of 2011 Super Bowl commercials is a stark departure from last year's theme of wounded manhood in the face of reduced income and unemployment.
"Unlike last year, nobody's emasculated," said Kelly O'Keefe, president of O'Keefe Brands and professor at Brandcenter graduate program at Virginia Commonwealth University. "I think we've moved out of the depression of the recession and into very familiar themes."
These themes involved a "tremendous amount of post-adolescent guy humor," said O'Keefe, including an ad where an office worker licks orange Doritos dust off a colleague's fingers, and a Pepsi (PEP, Fortune 500) spot where a can is torpedoed into a bully's crotch.
The usual dose of bawdy Super Bowl humor was fortified this year by extra-aggressive advertising. Advertisers made no apologies for trying to cajole consumers into spending their money -- especially since the advertisers were willing to spend millions themselves.
Fox, which broadcast the Dallas showdown between the Pittsburgh Steelers and the Green Bay Packers, charged an average of $3 million per 30-second spot.
Many advertisers clearly went above and beyond with their production budgets, plowing millions more into maximizing their pitch to an estimated one-third of the American population. Super Bowl viewership has been increasing for the last several years, and 2010's viewership was a record high, with 106.5 million football fans tuning in to watch the big game, according to Nielsen.
"The advertising tonight was really over the top in terms of production and special effects," said Tim Calkins, marketing professor from the Kellogg Super Bowl Advertising Review. "Advertisers invested huge budgets in producing these spots. I think advertisers are very optimistic about the economy. You invest money when you think you're going to get a good return on it."
Two ads stood out for their big budgets.
Coca Cola's (KO, Fortune 500) "Siege" featured a digitally-generated Tolkienesque world of warring humanoids and a fire-breathing dragon. South Korean automaker Kia showed its car traveling through a digital world of oceanic gods and alien planets.
But spending big money on special effects doesn't necessarily translate into more sales.
"Kia was working so hard to create something that was visually arresting that the brand got lost," Calkins said. "One of the challenges to Super Bowl is that if the ad gets too complicated, it becomes lost on a lot of people. Often, simple ads work better."
Volkswagen's ad for the 2012 Passat was a clear favorite for experts, who appreciated its simple message. In the spot, a young boy dressed as a diminutive Darth Vader makes unsuccessful attempts to use the force, until he's helped out by his dad -- and, of course, Volkswagen's Passat.
This ad resonated more with dads than dudes, according to Heath Rudduck, chief creative officer for Campbell Mithun.
"The mini-Darth spot, with Volkswagen, just grabbed me by the heart strings," he said. "There's really a simple little truth to that spot, especially if you've got kids."
O'Keefe expects the Vader-VW spot "to be one of the most remembered ads of the Super Bowl," considering its poignant departure from the herd.
"Guys, if you want to talk about big boobs and beer, fine, but we're grown-ups here," said O'Keefe, describing the high-brow tone of the Volkswagen spot.
He also spoke highly of a Chrysler ad starring the rapper and Detroit resident Eminem, which touted Motor City as an all-American place that rises above the recession with its strong work ethic and innovative spirit.
The ad ended with the message, "Imported from Detroit."