Carmakers driven to advertise on Super Bowl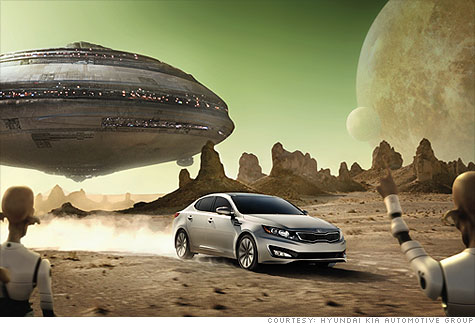 NEW YORK (CNNMoney) -- Automakers are back in force for this year's Super Bowl -- just two years after the U.S. industry was nearly wiped out -- with nine companies purchasing multi-million dollar spots for the big game.
"This is certainly the highest number of auto companies in the Super Bowl in years," said Ian Beavis, executive vice president of the Nielsen Company's global automotive group. "Their participation reflects renewed confidence in the economy and the auto industry."
Ad experts are seeing this as a good sign that consumers are willing and able to buy big-ticket items such as automobiles.
"It's clearly an indication that automakers believe that things are coming back and they need to make a grab," said Steve McKee, president of McKee Wallwork Cleveland Advertising, an ad agency that runs Adbowl, a Web site where people can vote for their favorite Super Bowl ads.
"It's the Super Bowl, for crying out loud, so it's a gold rush," he said. "It's a great way to make some noise."
The "noise" doesn't come cheap. Fox, which is broadcasting the Feb. 6 showdown between the Pittsburgh Steelers and the Green Bay Packers, is charging an average of $3 million for a 30-second spot.
U.S. automakers General Motors (GM) and Chrysler Group -- both of which were close to filing for bankruptcy when the Steelers beat the Arizona Cardinals in the 2009 game -- will be running spots.
Chrysler Group announced Jan. 31 that it expects to make a profit in 2011 for the first time since 2005. General Motors is also expected to make a profit this year, for the first time since 2004. Chrysler was the only U.S. automaker among the six car advertisers in last year's Super Bowl.
The international automakers with Super Bowl ads are BMW (BMW), Volkswagen, Audi, Suzuki, Hyundai, Kia and Mercedes-Benz.
Automakers are back at the Super Bowl because consumers are back in showrooms, according to Dave Sargent, vice president of vehicle research for J.D. Power and Associates, a marketing information firm. Sargent said that automobile retail sales in January jumped 25% from a year earlier.
"Consumers are more confident about the future," he said, noting that confidence is of utmost importance in convincing consumers to buy "big ticket items" such as cars.
In addition, Sargent said credit is more readily available than it was a year ago.
"Not only do consumers want to go out and buy a car, but they're able to go out and buy a car," he said. "Credit is being freed up significantly."
The style of ads is changing, particularly with luxury vehicles, said Joe Schab, president of Mastermind, a marketing agency. He said that shoppers for high-end cars are thriftier than they used to be, and less willing to throw money at a product for the sheer sake of obtaining a status symbol.
"[A car] is a high involvement purchase, something that's going to be a part of someone life for the next three or five years," said Schab. "Even a luxury brand is going to be talking about value."
McKee said that automakers are using the biggest football game of the year as a venue to tap into "pent up demand for cars."
"I think everyone is desperate for the era of austerity to end," he said.