Let's make a deal! Mergers are back.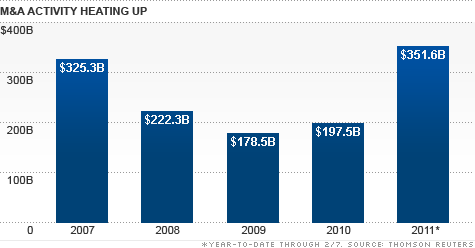 NEW YORK (CNNMoney) -- In the immortal words of TV game show host Monty Hall, it's time for let's make a deal!
Merger activity is off to a frenzied start in 2011. Thomson Reuters said this morning that the value of takeovers worldwide was $351.6 billion in the first few weeks of the year, up 78% from the beginning of 2010.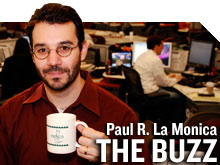 It's also the highest total since more than $580 billion in deals at the start of 2000. A big chunk of that deal volume back then was ... get ready to laugh ... due to the historic combination of CNNMoney parent company Time Warner with a little Internet firm known as AOL.
This year's figures included several notable deals announced Monday. Sure, the one getting the most attention is AOL (AOL) (once again a standalone company ... oh how the mighty have fallen) buying Huffington Post for $315 million. That's because we media types have an unhealthy obsession with our belly buttons.
But there were two larger and more significant deals unveiled as well.
London-based oil company Ensco (ESV) is buying driller Pride International (PDE) for about $7 billion. Medical diagnostics equipment maker Beckman Coulter (BEC) is being acquired by industrial conglomerate Danaher (DHR, Fortune 500), also for about $7 billion.
What's most notable about the flurry of mergers in recent weeks is that almost every sector is taking part. There were big coal and gold deals last week, with Alpha Natural Resources (ANR) buying troubled Massey Energy (MEE) and Newmont Mining (NEM, Fortune 500) acquiring Canadian miner Fronteer Gold (FRG).
Retailers are getting scooped up left and right -- particularly by private equity firms. Tech companies like Qulacomm (QCOM, Fortune 500) and Verizon (VZ, Fortune 500) have used their large stockpiles of cash to make deals. And even the banks, a group that had been largely left out of takeover talk last year, are starting to partner up as well.
Experts said they expect this trend to continue.
"Ask any investment banker right now about M&A and they would tell you that they are very busy," said Howard Lanser, director of M&A business development with Robert W. Baird & Co. in Chicago.
"Our pipeline is very good and the mix of companies selling is diverse. There are a lot of deals that you'll hear about in the spring," he added.
Some money managers said it's encouraging that companies are finally succumbing to the urge to merge again.
"It's about time. The pieces have been in place for well over a year for a significant pickup in takeover activity," said Roy Behren, portfolio manager with Westchester Capital in Valhalla, N.Y.
The firm runs the Merger Fund, which buys shares of companies that are in the process of being acquired and sells short companies making the acquisition. It's a strategy known as merger arbitrage.
Behren said the combination of extremely low interest rates, a rising stock market and healthy corporate balance sheets should make it easier for firms to do more deals. Companies have the option of borrowing money at attractive rates to finance deals or using their stock or cash as acquisition currency.
And that's a good thing for the markets. Stocks tend to do well at a time when companies are busy gobbling each other up. That's because investors usually bid up the shares of other companies that are viewed as the next logical takeover targets.
"In the short-term, more takeovers are a positive. Merger activity gets stocks to go up even if it is just due to speculation," said Paul Nolte, managing director of Dearborn Partners, an investment firm in Chicago.
Mergers, when done right, can also often lead to earnings growth.
"So many companies have increased profits and margins or maintained them through cost cuts. Companies can't keep growing by lowering expenses and closing factories," Behren said.
Of course, mergers can also have disastrous consequences. Nolte points out that he prefers to invest in companies that focus on smaller niche deals as opposed to transformational blockbuster mergers.
"A lot of mergers don't work out. Bringing together different corporate cultures is not always easy," he said, adding that Cisco Systems (CSCO, Fortune 500) and Procter & Gamble (PG, Fortune 500) are examples of two stocks he owns that have thrived thanks to less splashy deals.
Fortunately for investors, Lanser thinks that most companies aren't even considering large purchases just yet.
"The number one topic in boardrooms right now is M&A. Companies are hungrily looking for acquisitions," he said. "But the scars form the recession are still fresh so companies aren't willing to bet the ranch on big deals."
-- The opinions expressed in this commentary are solely those of Paul R. La Monica. Other than Time Warner, the parent of CNNMoney, and Abbott Laboratories, La Monica does not own positions in any individual stocks.