Stocks rally on Merger Monday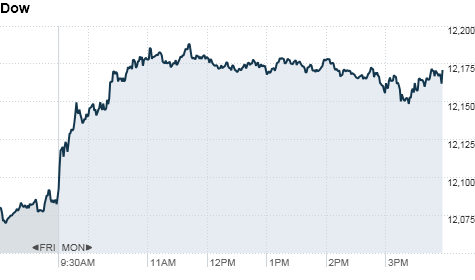 NEW YORK (CNNMoney) -- Investors started the week in high spirits Monday, welcoming several major mergers as signs that Big Business is more bullish about the economy.
At the closing bell, the Dow Jones industrial average (INDU) was up 69 points, or 0.6%; the S&P 500 (SPX) rose 8 points, or 0.6%; and the Nasdaq (COMP) gained 15 points, or 0.5%.
The biggest deals of the day include AOL's (AOL) acquisition of news blog The Huffington Post for $315 million, and a merger between oil drillers Ensco (ESV) and Pride International (PDE).
The diversified manufacturing company Danaher (DHR, Fortune 500) will also buy medical device maker Beckman Coulter (BEC) for $6.8 billion.
"Investors are coming in with the attitude, if these business leaders are confident enough to buy other companies, then I'm confident enough to buy stocks," said Jack Ablin, chief investment officer with Harris Private Bank in Chicago.
Shares of Pride and Beckman Coulter both surged Monday, following the news.
Investors welcomed the Danaher-Beckman Coulter deal as a strong sign for the biomedical industry. Danaher's $5.8 million offer valued Beckman Coulter at a 45% premium.
"We haven't seen too many health care deals, particularly ones done at a premium to market value," Ablin said. "Perhaps this could be a spark to get that sector moving."
Meanwhile, the AOL-Huffington Post deal boosted shares of other media companies. The New York Times (NYT) climbed 2.5% and Gannett (GCI, Fortune 500) shares rose 2.8%.

Economy: In a speech to more than 200 members of the U.S. Chamber of Commerce Monday, President Obama made the case for ramping up spending on education and infrastructure to promote economic growth. The speech is seen as another sign of the thawing relationship between the administration and business community.
A report by the Federal Reserve showed consumer credit rose more than expected in December, climbing by a seasonally adjusted $6.1 billion in December, after increasing by $2 billion the previous month.
Companies: In addition to some major deals, company earnings were also market movers.
Humana (HUM, Fortune 500) fell 3.1% after the health benefits provider reported fourth-quarter earnings that missed analysts' expectations. The company said it earned 63 cents per share, versus a forecast of 81 cents.
Hasbro (HAS) said its fourth-quarter earnings fell to 99 cents per share from $1.09 a year ago, but its shares rose 1.9%.
U.S.-listed shares of Nokia (NOK) were up 2.1% following reports that a management shake-up is brewing at the Finnish cellphone company.
Sysco (SYY, Fortune 500) said its second-quarter earnings fell 3.8% due to higher commodities prices, sending shares of the food company falling 6.1%.
World markets: European stocks finished the day higher. Britain's FTSE 100 ticked up 0.9%, the DAX in Germany rose 0.9% and France's CAC 40 gained 1.1%.
In Asia, Japan's Nikkei ended nearly 0.5% higher, while the Hang Seng in Hong Kong slipped 1.5%. Shanghai remained closed for lunar new year celebrations.
Currencies and commodities: The dollar fell against the British pound and the euro, but rose against the Japanese yen.
Oil for March delivery fell $1.55 to settle at $87.48 a barrel.
Gold futures for April delivery fell 80 cents to settle at $1,348.20 an ounce on the Chicago Mercantile Exchange.
Three-month copper futures hit $10,160 per ton on the London Metal Exchange, a record high.
Bonds: The price on the benchmark 10-year U.S. Treasury fell, pushing the yield up to 3.65% from 3.58% late Friday.