On tap: More retailers brewing up private-label beers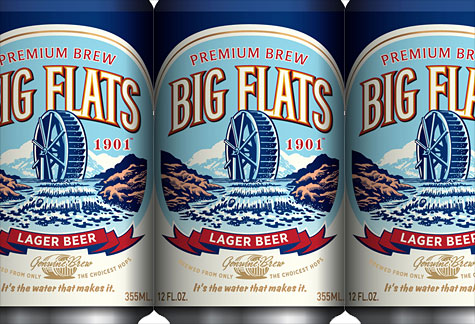 FORTUNE -- Amid the shelves holding staple brands like Coors and Miller Lite, Walgreens shoppers now have another choice in the beer aisle: Big Flats 1901. Big brewers are behind most of the options in the chain's coolers, but not this one. In the latest expansion to its store brands, which already include sunscreen and vitamins, Big Flats 1901 is Walgreens' private-label beer.
Walgreen Co.'s (WAG, Fortune 500) move into the private-label beer space signals a growing acceptance of store-brand goods by U.S. consumers -- an acceptance that's only gotten stronger with the economic downturn. "In many categories private label really put a dent in manufacturers and brought more profitability to retailers," says Benj Steinman of Beer Marketer's Insights.
But while private label goods in general have made inroads into consumers' cabinets, private label beer has been notably unsuccessful in taking a chunk away from national brands.
Big Flats 1901 is joining the ranks of other private label beers already on the market -- such as Kroger's Tap Room 21, Caguama, and Hollande 1620, and 7-Eleven's Game Day -- but brands like these make up only a tiny fraction of the industry as a whole.
Data from Nielsen provided by the Private Label Manufacturers Association found that during the 52 weeks ending December 25, private label made up a tenth of a percent of dollar sales in beer in U.S. supermarkets, drug chains, mass merchandisers, and Wal-Mart (WMT, Fortune 500). Compare that that to the 17.4% of dollar sales for all private label goods, an almost 2% rise in absolute dollars over the previous year.
The ultimate strategy for private label beer is the same as it is for any other category-better margins for the store and lower prices for consumers. BB&T Capital Markets analyst Andrew Wolf says that in addition to generating incremental sales, Big Flats 1901 will create what he calls a "value impression" over Walgreens' whole beer category.
If consumers know they can get Big Flats 1901 for $2.99 a six-pack at Walgreens, the result is somewhat of a halo effect (or beer goggles, if you will) around the rest of the beer in the store. It also becomes a point of differentiation for Walgreens. The theory goes that if private label is done right, it can help a retailer become less replaceable: Shoppers can get AB InBev's (BUD) Budweiser anywhere, but they can only get Big Flats 1901 at Walgreens.
So, why hasn't private label beer taken off already? In part, private beer is flat because beer in general ranks as one of the most brand-loyal product categories. Deloitte found in its 2010 American Pantry Study that 41% of people surveyed that purchased beer said it was a must-have brand for them. (Pet food topped the list at 49%.)
Beer drinkers have the mindset that they're a Bud drinker, they always have been a Bud drinker, and they always will be a Bud drinker, according to Harry Schuhmacher, editor and publisher of Beer Business Daily. "Nobody says that about toothpaste," he adds.
Deloitte found that private-label products with the greatest penetration are those that have less visibility when they're consumed-think a can of tomatoes or a bag of flour. Because beer drinking takes place in a social context, it's purchased more on image than other goods. The massive marketing budgets around beer have paid off in creating brand impressions that are hard to diffuse. Brand is supposed to say something about a beer drinker-I'm sophisticated so I only drink microbrews, or I'm outside the mainstream so I drink Pabst Blue Ribbon.
Despite our ingrained associations with beer labels, the thought is that at about 50 cents a can trying Big Flats 1901 might be too good a deal to pass up. "It just takes all the apprehension out of if. Where's the risk?" says Harry Snyder of Winery Exchange, which develops private-label beers, including Big Flats 1901 for Walgreens.
But being cheaper may not be enough. Cheap beer is one segment of the market that is not lacking, and brewers with powerful ad dollars won't give it up lightly. "The big brewers, AB-InBev and MillerCoors [a venture of SABMiller and Molson Coors (TAP)], have been savvy in protecting the lower flank by creating lower-end brands," explains Schuhmacher. It's this kind of beer drinker that tends to be the most loyal.
Price may be a big way to compete on beer, but price is relative depending on what tier the beer is being sold in. For example, rather than going after the cheapest segment of the market, Costco (COST, Fortune 500) has its own craft beer-a category that's generally pricier, varies more widely in taste, and won't appeal to everyone. The company is trying to provide an inexpensive alternative to a higher tier of the market. "It's the fastest growing segment," explains Annette Alvarez-Peters, Costco's Assistant General Merchandising Manager for wine, spirits, and beer. "We think of it as wine so to speak-there's a lot of experiment, there's a lot of trial" on the part of the consumer. Craft beer drinkers are therefore considered more promiscuous drinkers and more willing to try something new, including Costco's brand.
So if Costco is one of the rare success stories, and is competing in a higher end beer category, why are other stores chasing the segment? From Walgreens' overall brand perspective, besides better margins, private label beer plays a part in its strategy to offer more food products. "They really want to try to capture a convenience food shopper, the what's for-dinner-tonight shopper," explains BB&T Capital Markets analyst Wolf.
Beyond the consumer appeal, Jan-Benedict Steenkamp, a professor of marketing at the University of North Carolina's business school, says that private label beer acts as a lever for retailers worried about being taken for a ride by the beer-brewing giants. "You have your own weapon," he explains. And though that's one reason retailers might develop private label beer, it of course wouldn't be the first time alcohol has been involved in a fight.