Beyond perks: Lessons from tracking the "100 Best"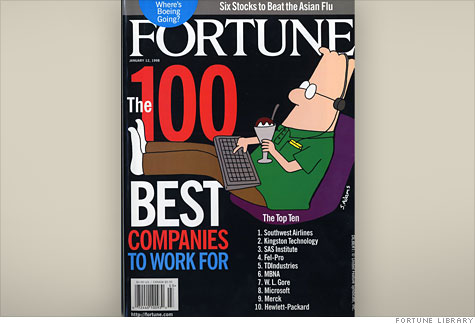 FORTUNE -- We've got the best job in America. Who wouldn't enjoy visiting great places to work and listening to employees rave about why they like working there?
That's what the two of us have been doing for the past quarter century. During that time we've catalogued many an eye-popping perk. Perhaps the most remarkable of these perks was the average bonus totaling $105,000 awarded to all workers at Kingston Technology. Founders David Sun and John Tu had sold the company in 1996 for $1.5 billion and then decided that employees should share in this bonanza. First they paid out bonuses averaging $75,000 per employee; then, in 1997, the year we began compiling Fortune's "100 Best Companies to Work For" list, they came through with another $30,000-per-employee bonus.
Other spectacular perks have included:
• All-expense-paid trip to Hawaii that Houston builder David Weekley Homes provided for all of its 1,000 employees and their spouses in 2004.
• On-site child care by Montessori teachers at Research Triangle Park campus of SAS Institute -- offered free of charge for a dozen years, now available at below-market cost of $410 a month.
• Free breakfast, lunch and dinner at Google (GOOG, Fortune 500) prepared by gourmet chefs.
• Devon Energy (DVN, Fortune 500) contributes up to 22% of pay to an employee's retirement plan.
Such perks are fun to write about. And faithful readers of this list have likely noted how much the benefits picture has changed. Pension plans have all but disappeared, and we now have benefits which hardly existed when we wrote our first book on the subject in 1984 (domestic partner benefits, on-site child care centers, 401k plans).
The perks we've cited do not fully explain the durability of this list, which has survived the "re-engineering" (read: layoffs and restructuring) fad of the 1990s, the dot.com bust of the new century, the 9/11 malaise and one of the worst financial crises in U.S. history.
We think the feature that has kept this list on the rails is our methodology. We decided early on that the way to find the best companies to work for is not to measure the square footage of the gym or crunch the numbers on who has the best 401(k) matching policy but to ask employees themselves.
And listening to employees remains the bedrock of our methodology. It's what gives the list credibility. We use a special survey developed by the Great Place to Work Institute to solicit employee opinions. Results from the survey count for the majority (two thirds) of the final score, so in effect, we are letting employees vote their employers onto the list -- or off.
We've learned several key lessons along the way:
No industry has a monopoly on good workplaces. From the start we have had a strong representation from Silicon Valley. But high-tech doesn't have a lock on this list as some are virtual 24/7 sweatshops (despite the great bennies). Many of the 100 Best come from unlikely industries, like retail (Wegmans was #1 in 2005) or manufacturing (J.M. Smucker (SJM), #1 in 2004).
In our initial list we had no accounting firms (an industry known back then for its high turnover and a chew-em-up culture); today, we have five, including the Big Four. We had no law firms; today, we have four. We had only one hospital company on our 1984 list; today, we have 13 including such highly regarded institutions as Methodist Hospital in Houston, the Mayo Clinic and Baptist Health South Florida, where the payroll has jumped from 2,200 in 1993 when the company first made our list to 12,250 today, all under the aegis of a dynamic CEO, Brian Keeley.
Baptist Health is not unique. In every case, we have noted that a great workplace happens because senior leaders have made this a high priority. We've heard this commitment first-hand from such legendary CEOs as Herb Kelleher of Southwest Airlines (LUV, Fortune 500) (#1 on Fortune's 1998 list), Fred Smith of FedEx (FDX, Fortune 500) and John Mackey of Whole Foods Market (WFMI, Fortune 500).
But we have been more impressed when employees report that their leaders take the time to listen to their ideas (John Chambers, CEO of Cisco Systems (CSCO, Fortune 500), okayed a state-of-the art child care center after hearing repeated requests for one at the monthly birthday meetings he attends), show appreciation for what they contribute (when patient satisfaction scores increased in 2008, Scripps Health passed out bonuses averaging nearly $900 to every employee), and celebrate successes (biotech leader Genentech (DNA) celebrated its 30th birthday with a huge party featuring surprise guests: Foo Fighters, Bob Dylan, Black Eyed Peas and the Eagles).
Above all else, we've learned that senior leaders of great workplaces genuinely care about their employees as people not just hired hands. One example: We were surprised when QuikTrip applied for a spot on our list in 2003. We wondered how a Tulsa-based convenience store chain whose big sellers were gasoline, cigarettes and beer, and whose stores were open 24 hours a day, 365 days a year, could be a good place to work. We discovered that the firm had a number of unusual benefits for its industry: health insurance for part-timers, profit sharing, stock ownership plans, training programs (most of top management started out in the stores). But the perks are only the tip of the iceberg of the QuikTrip culture. An employee comment from last year's survey says it all:
"Several years ago we lost a young employee in a robbery. He was a husband and father. I was impressed how our owner set up a scholarship program for his kids. He also paid the widow his annual salary with promotions and pay raises until those kids reach 22."
Coming across stories like this makes our day.
And guess what? The companies on our list have had spectacular financial success. The aforementioned QuickTrip has grown from 400 to more than 500 stores. Nordstrom (JWN, Fortune 500) had 9,000 employees with 37 stores in five western states when it first appeared on our list in 1984. Today, it has roughly 49,500 employees with 193 stores in 28 states. The number of employees at Goldman Sachs (GS, Fortune 500) has quadrupled.
They make for good investments, too: For a number of years we have worked with Russell Investments to track the stock performance of the publicly traded companies on our list, comparing it to market averages. The results confirm it pays to have a happy workforce.
Let's assume you invested an equal amount of money in all the publicly traded companies on the first Fortune list in 1998 and then adjusted the portfolio each year, adding the new companies, dropping the ones that fell off the list. At the end of 2010 you would have realized a return of 11.06% per year, a cumulative return of 291.13% for the 14 years. By comparison, the S&P 500 had over this same period an annualized return of 3.83% and a cumulative return of 63.04%.
How did your portfolio do in 2010? The 100 Best list was up 23.11%.
Enough said.
Robert Levering is cofounder of the Great Place to Work Institute and coauthor of the 100 Best Companies to Work For list. Milton Moskowitz is a journalist and coauthor of the list. Together, the two have evaluated more than 4,000 workplaces since 1984.