To the cloud! Wait, the what?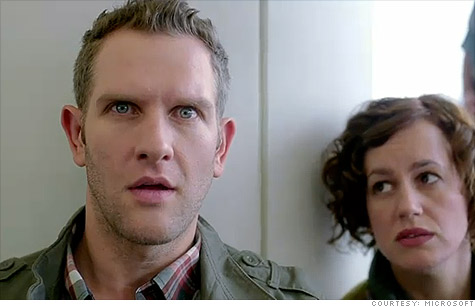 NEW YORK (CNNMoney) -- "The cloud" seems to be promoted everywhere lately, even making its way into a Super Bowl commercial.
But what exactly is the cloud -- and why should you care?
Despite the recent advertising push from companies like IBM, Microsoft and Salesforce.com, the cloud is actually nothing new. It's a catch-all term for Internet-based services, which have been around for the better part of the last two decades.
Hotmail, Amazon.com (AMZN, Fortune 500) and eBay (EBAY, Fortune 500) were all cloud forerunners that have existed since the mid-1990s. Today, popular cloud services include Netflix, Google Docs, Windows Live, Flickr, Facebook, and MobileMe, to name just a few.
So if it's nothing new, why have you never heard of it until recently? Well, the cloud's previous monikers included not-so-catchy names like "application service provider," "software as a service" and "on-demand software."
Understandably, those never really caught on with consumers. Whoever hit on the marketing concept of "cloud" should be considered for a corner office at Sterling Cooper Draper Pryce.
Partially due to the easier-to-sell name -- but also because of improving services -- the cloud finally started to catch on in the past few years. It's taken off like wildfire since the second half of 2010.
Last summer's bidding war between Dell (DELL, Fortune 500) and Hewlett-Packard (HPQ, Fortune 500) for cloud storage company 3Par kicked off a slew of deals for cloud companies. The expensive M&A kept going right into 2011: Verizon (VZ, Fortune 500) put in a $1.4 billion bid for cloud-provider Terremark two weeks ago, and last week Time Warner Cable (TWC, Fortune 500) scooped up cloud platform company NaviSite for $230 million.
The tech field believes this decade's leaders will be the ones that capitalize early on the trend.
"The cloud will be the dominant method of computing for the next 20 years," said Eran Frajun, vice president of Asigra, a cloud backup provider. "Companies want to own a piece of that stack."
The cloud advantage
For consumers, the cloud carries many perks.
You can create a document on the train ride to work using Google (GOOG, Fortune 500) Docs on your mobile phone, then open the file on your work PC when you get into the office. You can start watching a movie on your Microsoft (MSFT, Fortune 500) Xbox, continue watching it at the gym and finish it on your laptop. You can save and share your photos on the Web, use your browser bookmarks on any computer and even automatically back up your computer to a remote server.
Most of the computing tasks you do every day, like surfing the Web, checking e-mail, watching videos and writing documents can be done in the cloud.
One big holdout for consumers is iTunes, which doesn't yet allow you to access your music and media remotely from any computer. But that's coming soon: Apple (AAPL, Fortune 500) is opening a server farm in North Carolina that is reportedly capable of hosting all of that data.
For businesses, cloud companies are selling their services as cheaper solutions to existing problems.
For instance, small businesses that can't afford the servers it takes to host a website or run certain business applications can borrow space from cloud companies that run massive data farms.
"With the cloud, individuals and small businesses can snap their fingers and instantly set up enterprise-class services," said Roy Stephan, director of IT architecture and engineering at tech solutions provider Intelligent Decisions. "Like collective bargaining, small businesses can get together and spread the cost out among themselves."
One noteworthy example is Microsoft's Windows Azure platform, which allows users to tap into the same technology that Toy Story maker Pixar uses. The movie studio uses an entire data farm to create its movies, since rendering just one frame on one computer would take more than 250 years, Pixar business director Chris Ford said at Microsoft's Professional Developers Conference in October.
Rather than keep all that processing power to itself, Pixar brought it to the cloud, letting Microsoft's cloud customers buy access to its server farm to render computer graphics at significantly faster speeds than they'd be able to on their own.
Of course, not everyone is all gung-ho about the cloud. Security remains a concern, since cloud data moves out of a user's control to servers that live in who-knows-where that are managed by who-knows-who.
Just ask the poor photographer who lost 4,000 photos on his Flickr account. Or the people whose data was hosted data on Google's Chinese servers and accessed by hackers.
As with any growing technology, there's going to be bumps in the road. But there's little doubt that the cloud is becoming the new normal for computing.
So get ready to live your life in the sky -- and maybe even, at last, host your iTunes collection there.