Sales are up but CEOs are getting nervous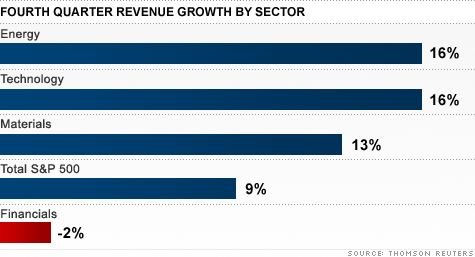 NEW YORK (CNNMoney) -- By nearly all measurements, Corporate America had a stellar last three months of 2010.
About 70% of the companies in the S&P 500 have reported their quarterly results so far and nearly three quarters of them have beat analysts' estimates.
Profits for the S&P 500 were up 37% compared to a year ago. Sales were also up by 9% on average across all sectors. In fact, the banking industry was the only sector to report a drop in revenue.
That's a good sign since it indicates that companies are benefiting from real demand and not just cost cutting.
"It's nice to finally see top-line growth out of these companies again," said Eric Marshall, director of research with Hodges Capital Management. "We're not fully recovered yet, but this quarter showed progress."
Executives at many big companies also began talking in detail about increasing capital spending.
Mining company Freeport McMoRan (FCX, Fortune 500) told investors it plans to double its capital expenditures from a year ago. Oil services firm Schlumberger (SLB) said it plans to increase capital expenditures by $1.1 billion.
General Electric (GE, Fortune 500) and Johnson & Johnson (JNJ, Fortune 500) told investors in their conference calls they planned to put more dollars into research and development this year as well.
There were some elements of this earnings season that gave investors pause however.
Outlooks for several major companies remained hazy at best. Cisco CEO John Chambers spooked investors late Wednesday when he said that the company was facing weaker than expected demand for products and increased competition at home and abroad.
Cisco (CSCO, Fortune 500) shares plunged Thursday, helping to drag down tech stocks in general.
Companies also broadly expressed concerns about rising commodity costs. Unless businesses try and pass on some of these higher expenses to consumers with price hikes, profit margins could fall.
"This is an industry-wide issue and we know we're not alone in experiencing margin pressures," ConAgra Foods (CAG, Fortune 500) CEO Gary Rodkin told investors when the company reported its earnings last month.
PepsiCo (PEP, Fortune 500) also warned that higher commodity prices could be a problem later this year. The company said Thursday morning that it faces "a potentially difficult competitive pricing environment, particularly in beverages."
Considering that the market has rallied for nearly two years now thanks in large part to improving earnings, this could be unwelcome news for investors.
"Sales are simply not keeping up with rising material costs," said Barry James, portfolio manager of James Advantage Funds. "They can't pass off the costs to consumers yet, so profit margins are going to have to take a hit."