Cisco's profit falls 18%, but still beats estimates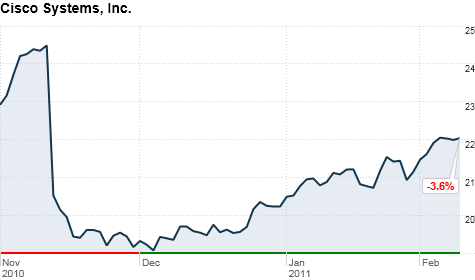 NEW YORK (CNNMoney) -- Cisco Systems Inc. reported a quarterly profit Wednesday that fell from year-ago results but beat Wall Street's forecasts.
Still, a cautious outlook sent shares of Cisco (CSCO, Fortune 500) down 13% Thursday.
On a conference call with analysts, Cisco CEO John Chambers said that Cisco expects its revenue to grow by just 4% to 6% in the current quarter compared to last year. That's right in line with Wall Street's estimate of 5%, according to a survey of analysts polled by Thomson Reuters.
Chambers said he expects sales to pick up soon, with revenue growth of between 8% and 11% next quarter, though that's lower than the 9% to 12% guidance he gave in the previous quarter.
Cisco's CEO gave tepid guidance during the previous quarter's conference call in November. Since then, shares have fallen 17%, though they continued to make a steady comeback until Wednesday afternoon.
The company has struggled as sales to the public sector and governments have slowed. Cisco has also found new rivals entering the networking scene, like Hewlett-Packard (HPQ, Fortune 500) and IBM (IBM, Fortune 500), which have added new services to help them become one-stop shops for technology customers.
Chambers said Cisco has found that its new competitors are adding to pricing pressure.
To keep up, Cisco is transitioning from the world's largest networking provider to a broader-based IT supplier, adding new consumer products to its lineup.
The company's services unit is now 21% of its business, and sales in that unit grew 18% last quarter.
But legacy businesses like routing and switching still make up 46% of the company's revenues. Routing revenue was up just 4% and switching sales fell 7% in the quarter.
"As a company, we are going through a period of transition as we move aggressively in the market with our architectural strategy," Chambers said on the call. "As I look back on this period, I wish we could have avoided it, and yet it will make us stronger in time. We have managed these market transitions many times, positioning Cisco and our customers for success."
By the numbers
During the past quarter, the San Jose, Calif., company said its net income fell to $1.5 billion, down 18% from a year earlier.
The results of Cisco's fiscal second quarter, ended January 31, included one-time charges of 10 cents per share. Without the charges, Cisco earned 37 cents per share. Analysts polled by Thomson Reuters, who typically exclude one-time items from their estimates, had forecast earnings of 35 cents per share.
Sales rose 6% to $10.4 billion, topping analysts' forecasts of $10.2 billion.
Cisco also continued to stockpile cash, increasing its hoard to $40.2 billion, up from $39.9 billion in the previous quarter. The company announced late last year that it will begin to pay a dividend yielding between 1% and 2% in the current fiscal year, which ends in July.