Trump: U.S. is a 'laughing stock'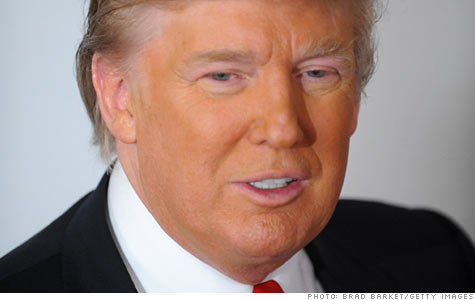 NEW YORK (CNNMoney) -- Real estate mogul Donald Trump told hundreds of conservative activists Thursday, that if he was president, he would take in "hundreds of billions from countries that are screwing us."
The comment repeated past statements from "The Apprentice" star, who has said he wants to put a 25% tariff on all Chinese imports, to level trade imbalances in the global economy.
Speaking in D.C. at the annual Conservative Political Action Conference Thursday, Trump said the United States has become a "laughing stock" and "whipping post" for the rest of the world.
Among a laundry list of unrelated grievances, Trump was referring partially to a trade imbalance with China -- a topic he has previously ranted on publicly many times.
"The world is treating us without respect, they are not treating us properly," he said.
China has a massive trade surplus, meaning it exports far more than it imports. Meanwhile, the United States is running a $38.7 billion trade deficit.
While Trump's comments are more colorful than others, the imbalance between the world's two largest economies has become a sore point also for U.S. policymakers lately.
Treasury Secretary Tim Geithner has been pushing China to allow its currency, the yuan, to appreciate more rapidly against the dollar. Critics say China keeps its currency artificially low, giving their exporters an unfair advantage on the world stage.
And a tariff on China is not a new idea. In September, lawmakers in the House passed a bill to impose duties on imports from countries with undervalued currencies.
The Senate never voted on the bill, but a group of lawmakers has vowed to introduce similar legislation this year.
At the CPAC conference, Trump also ripped on OPEC for high oil prices and the New York Stock Exchange's negotiations with a German exchange.
Much to the disappointment of many in the crowd, he also said conservative favorite Rep. Ron Paul of Texas cannot win a presidential election.
"I like Ron Paul, I think he's a good guy, but honestly, he has just zero chance of getting elected," he said.
Trump reiterated he would consider running for president in the 2012 elections, but said he would not make an official decision until June. He told CNBC last month that he would first have to wait for the latest season of celebrity "Apprentice" to wind down.
"It lasts to almost June, and I'm not allowed to do anything or talk about it before that," he said at the time